The first visitors in Florida arrived by boat—Juan Ponce de León and his crew 500 years ago—and it's still the best way to see the Sunshine State.
From a boat, you can reach special places where there are no roads and glimpse views you can't see any other way. Some of the boats themselves are one-of-a-kind attractions.
And there's no shortage of waterways to explore. Florida has 1,800 miles of coastline and 12,000 miles of rivers and streams.
While some visitors rent kayaks, motor boats, houseboats or sailboats on a Florida vacation, the easiest and least expensive way to go is on a boat tour—and there are hundreds to choose from.
Here are 10 favorite Florida tours that illustrate the variety of cruises available around the state:
1. Cruise Through Tarpon Springs to a Dazzling Island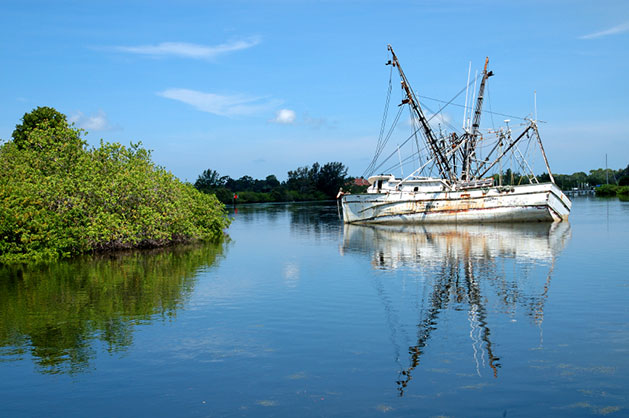 As early as 1890, Greeks came to Tarpon Springs to dive for sponges. The sponges are long gone, but the Greek heritage lives on.
One of the best things to do from the Tarpon Springs Sponge Docks is take a boat tour that offers several delights.
Tour the Anclote River and hear a little Tarpon Springs history, gaze on the Gulf waters and spot dolphins, and finally, enjoy a short stop on Anclote Key, a pristine white-sand barrier island reachable only by boat. This state park features an 1887 lighthouse.
The tours give visitors half an hour to enjoy Anclote's perfect sandy beaches (you'll wish you could stay), but don't include visiting the lighthouse.
Sponge-O-Rama operates cruises to Anclote from the Sponge Docks, where you can catch a glimpse of dolphins, manatees, and sea turtles, as well as a variety of historical sights.
2. Celebrity Spotting Near Miami Beach
Entertainers, celebrity athletes, and other Miami millionaires pay big money for waterfront views from exclusive addresses. But from out on the water, you have an equally good view of palatial estates.
Boat tours leaving from Miami's festive Bayside Marketplace cruise by Fisher Hibiscus and Star Islands, home to Sean Combs, Gloria Estefan, Rosie O'Donnell, and Shaquille O'Neal, among others.
Visitors also get an up-close view of the Port of Miami and its giant cruise ships, plus a look at the postcard-perfect Miami skyline.
The 90-minute Island Queen cruise is $28 for adults on a 140-passenger double-decker boat.
3. Discover the "Wild Man of the Loxahatchee"
This boat tour takes you to a fascinating destination you can't reach by land. Centered around Jonathan Dickinson State Park in Hobe Sound, the narrated tour on the Loxahatchee Queen II takes you down the jungle-esque Loxahatchee River north of West Palm Beach, which is worth the trip by itself.
A tour highlight, though, is a visit to the home of Trapper Nelson, one of those fabulous characters who helped make Florida funky in the state's early days.
Nelson started out living off the land as a trapper and fur trader in the 1930s, but soon turned himself and his home into one of the area's first tourist attractions—"Trapper's Zoo and Jungle Gardens."
No public roads lead to Trapper Nelson's site. The cost to ride on the 25-passenger Loxahatchee Queen II is $25 for adults, $15 for children ages 3 to 12, and free for children under 3.
Trips depart at 9 a.m., 11 a.m., 1 p.m. and 3 p.m. Call (561) 746-1466 for more information.
4. See the Sunset from the Water in Key West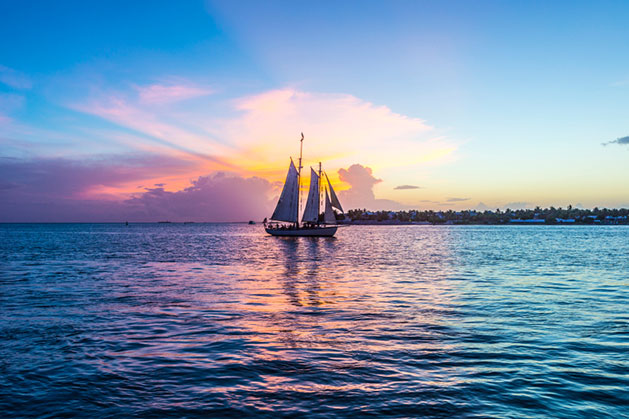 Key West has turned the daily sunset into a celebration, and seeing the sun go down from a boat cruising offshore forms an indelible Key West memory.
There are many tours from which to choose. Some are "all-you-can-drink" party boats with DJs and dancing. For instance, the pirate-themed Jolly II Rover schooner with its jaunty red sails is $65 and is BYOB.
You can also compare sunset cruise options during a scenic stroll through the Historic Key West Seaport. Watch for promotions and discounts. Many other Florida port cities offer sunset cruises too, so explore options near where you're staying.
5. Manatees and More on St. Johns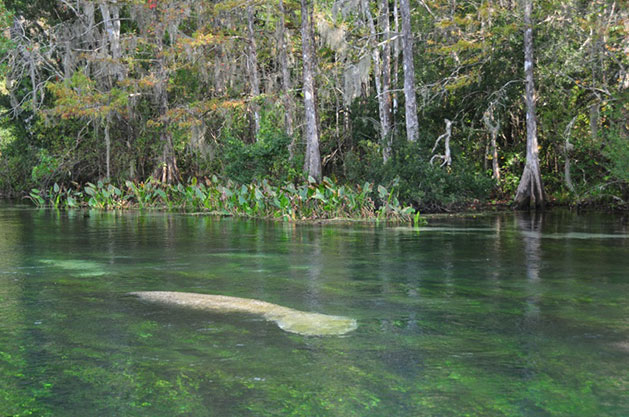 One of the highpoints of a winter visit to Florida is a chance to see an endangered manatee in the wild. One of the best spots to do that is Blue Spring State Park between Orlando and Daytona Beach. When the weather is cold, the clear spring can attract hundreds of manatees.
The St. Johns River Cruise leaves from the park and specializes in helping you spot wildlife—not just manatees, but also alligators, bald eagles, osprey, herons, egrets, sandhill cranes, limpkin, ibis, purple gallinules and more.
The two-hour cruise winds through shallow areas of the unspoiled river and even when wildlife is scarce, guides offer lots of history and information about the area.
Tickets are $27 for adults and $17 for children. There are three trips a day in the winter months (two in the off-season).
6. Be Like Bogie on the African Queen
You can't do this anywhere else: The African Queen boat—the actual steamboat used in the 1951 movie of the same name starring Humphrey Bogart and Katherine Hepburn—has been beautifully restored to take visitors on Key Largo cruises.
Cruises are pricey—best for true fans yearning to sit exactly where Hepburn and Bogart did—but intimate. The boat is licensed to hold six passengers at a time.
The 90-minute canal cruise is $59 and leaves at 10 a.m., noon, 2 p.m., 4 p.m. and 6 p.m.
7. Make Like Tarzan and Explore "The Black Lagoon"
As one of the largest springs in the world and the deepest in Florida, Wakulla Springs near Tallahassee has a rich history.
There are mastodon bones in the bottom of the river and archeological sites along its shores. The springs were also the setting for several early Tarzan movies starring Johnny Weissmuller, as well as for the cult classic film, "Creature from the Black Lagoon."
The guide on the boat tour in Edward Ball Wakulla Springs State Park tells tales of the mysterious spring (its source has never been located), while pointing out plentiful wildlife. Ancient bald cypress trees line the river.
The boat tour follows a three-mile loop that takes 45 minutes to an hour to complete. The water rarely achieves the aquamarine clarity it once had, but when it does (usually in late winter or early spring), Wakulla Springs beckons the glass bottom boat for tours.
Get information on the park and boat tours.
8. Find Serenity in Central Florida's Winter Park
Long before Mickey Mouse came to Orlando, folks were enjoying "jungle cruises" in nearby Winter Park. The Winter Park Scenic Boat Tours started taking visitors through the lakes and canals of the Winter Park chain as early as 1938.
On the tour, you'll see lushly landscaped lakefront estates and ride through narrow canals. You'll see boaters, wading birds, and the occasional alligator.
Tour guides offer lots of stories about local history and the people who lived in the mansions, plus a few corny jokes. The 18-passenger open-air pontoon boats provide a friendly, intimate tour. Be sure to bring hats and sunscreen.
Tours leave hourly and accept cash only—$16 for adults; $8 for children. Get details on boat tours.
9. Zip Through the Water on an Airboat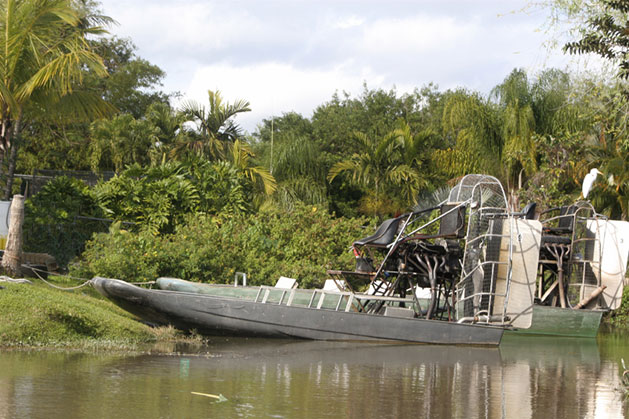 The loud, flat-bottomed airboats that ride over water and swamp are unlike any other boat ride you'll take. Invented by Alexander Graham Bell, airboats first came to Florida in the 1920s and have been a classic tourist experience ever since.
Airboat tours take you into roadless areas to see wildlife, but a big part of the experience is the wind noise and thrilling speed. There are no airboat roads in Everglades National Park, but there are plenty of options throughout South and Central Florida.
With so many airboat tours out there, you should consult tourist offices near where you are staying for suggestions.
Two long-time airboat operators are Cooperstown Airboats (in business since 1945) on the Tamiami Trail near the Shark Valley entrance to Everglades National Park and AirBoat Rides at Midway (operating since the 1930s) east of Orlando in a town called Christmas. Rates range up to $43 for adults.
A few more ideas:
A list of 10 boat tours doesn't begin to cover all the possibilities, so here are a few more ideas:
Glass-bottom boat tours let you see coral reefs at John Pennekamp Coral Reef State Park in Key Largo without getting wet.
The oldest glass-bottom boat tour in Florida is at Silver Spring in Ocala. Once a private attraction, the spring and the boat tour are now part of Silver Springs State Park. Silver Springs was one of Florida's original attractions.
Wildlife boat tours are popular at Everglades National Park, both at the Everglades City entrance and at the Flamingo marina.
The Jungle Queen Riverboat cruise in Fort Lauderdale has been showing visitors the sites along the New River for more than 50 years.
Similarly historic, the Victory III has been cruising St. Augustine since 1949.
---
This article originally appeared on VisitFlorida.com.