At around just eight square miles, Key West isn't home to a vast shoreline packed with beaches. However, the island lays claim to four delightful beaches that are certainly worth the hike, especially for vacationers staying in nearby boutique inns and cottages.
Read on to learn more about these coastal spots reachable within a short walk from most tourist areas — no taxi required.
South Beach
Located at the very end of famed Duval Street, the 14-block commercial drag lined with bars and restaurants, South Beach forms a tiny square along the coastline. It's just around the corner from the Southernmost Point of the Continental U.S., a must-stop on the selfie route, and it offers the chance to dip your toes in the warm waters of the Florida Straits.
In search of a place to stretch out under the tropical sun? South Beach may not be your first choice, as there will be dozens of other sunbathers vying for limited space.
For a quick drink or a snack, hit up the on-site Southernmost Beach Cafe or wander a few blocks north for homemade ice cream at Flamingo Crossing.
Higgs Beach
Pedestrians can find this gorgeous beach park nestled between Reynolds Street and White Street. Aside from white sand and shallow, calm water, visitors have access to a dog park, a playground, a wildlife center, an Italian eatery and a long pier offering ocean views.
History buffs should check out the Key West Garden Club, a floral display housed in a former Civil War fort. Reflect on the Keys' past at the African Refugee Cemetery, a display commemorating hundreds of Africans rescued from an illegal slave ship in 1860.
Fort Zachary Taylor State Park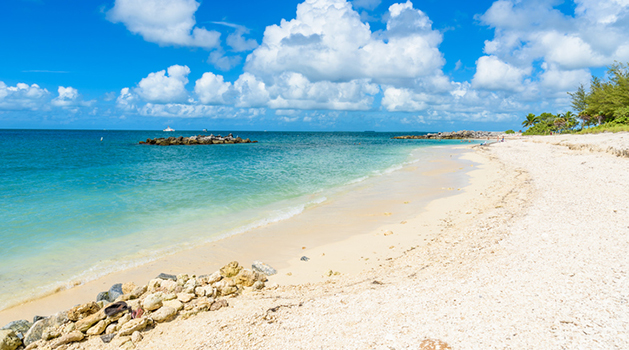 Tucked away in the fort's 54-acre compound, Fort Zachary Taylor State Park's beaches are composed of several serene coves forming shallow pools. In the absence of powerful surf, swimming and wading are a pleasure. Remember to pack a few extra dollars in your beach bag — there's a $2.50 fee for pedestrians (and cyclists) to enter the park.
Once you've dried off, take a narrated tour of the fort or simply enjoy the walking trails around the structure, where you'll glimpse a variety of subtropical flora and fauna.
Smathers Beach
Arguably the most fetching of Key West's beaches, Smathers Beach is the easiest coastal stretch to reach for those staying on the island's less-touristy eastern half. Sunrise is a magical (and quiet) time, best for reflection or a morning kayaking session. By afternoon, scores of visitors have laid out their beach blankets and umbrellas, and the festive atmosphere doesn't quit until the sun disappears from view.
Set out on Bertha Street west of the beach to reach a few dining options for lunch or dinner, including Lupita's Mexican Restaurant and Shanna Key Irish Pub and Grill.
---
Want to see vacation rentals near these beaches? Shop Key West vacation deals now.