Hawaii is home to a wealth of worthy destinations spread across its eight main islands. To find out-of-the-ordinary experiences, though, leave the major cities and follow winding roads to hillside havens and unblemished coastlines — that's where you'll encounter Hawaii's tucked-away treasures.
Below are five such small-town beauties, all of which offer fascinating historical sites, unique local cuisine and views galore.
Hawi, Big Island
Home to just over a thousand residents, this tiny tropical haven on the Big Island is probably best known as the turnaround point for triathletes competing in the Ironman World Championship endurance race, held every year on the island since 1978. But despite its small size, Hawi offers plenty of what visitors love: impressive mountain views, plus a sprinkling of boutique shops and galleries and buzzy restaurants serving local cuisine.
Take a walk along the Akoni Pule Highway and stop in at tiki-themed Bamboo Restaurant & Gallery, which has garnered accolades from Frommers, Fodors and Food Network. There's also heart-pounding adventure for active types — zip-lining, ATV tours and kayak tours — plus historic sites and architecture related to the the town's sugar industry past. Don your sneakers or sandals, and spend breezy afternoons exploring the town on foot.
Haleiwa, Oahu
Big waves, cultural festivals and popular food trucks await in Haleiwa, a countryside escape tucked into a soft curve in Oahu's North Shore. A ribbon of white sand hugs this serene coastline, and not too far from the beachfront is the Kamehameha Highway, lined with eateries and mom-and-pop shops housed in plantation-era buildings. Despite a population of less than 4,000, this town is considered the social and artistic hub of the North Shore. Visit Wy's Galleries, Haleiwa Art Gallery or Tabora Gallery for a first-hand look at area art.
Allay your appetite at Giovanni's Shrimp Truck, and then go for dessert at Matsumoto Shave Ice, a family-owned purveyor of sweet treats open since 1951. After a day hitting the waves, check out Waimea Valley's waterfalls and botanical gardens.
Koloa, Kauai
See old-fashioned storefronts housed in plantation buildings in Old Koloa Town, just south of the famous Tree Tunnel lined with eucalyptus trees planted a hundred year ago. Learn about the town's sugar industry past at the Koloa History Center, or take a walking tour along the Koloa Heritage Trail, highlighting 14 cultural, historical and geological sites in Old Koloa Town and nearby Poipu.
Spread out on famous golden-sand Poipu Beach and then reserve a spot at Eating House 1849, created by celebrity chef Roy Yamaguchi to showcase the area's culinary heritage. For lodging, splurge at the 4-star Ko'a Kea Hotel & Resort, home to a spa and an upscale restaurant, not to mention a pool with ocean views.
Kula, Maui
Surrounded by verdant farmland and rolling hills, the town of Kula sits on the western slope of the Haleakala volcano and once comprised three ranches: Haleakala Ranch, Kaonoulu Ranch and Ulupalakua Ranch. Nowadays, the village is known for its cooler temperatures, its expansive views and its rich, fertile soil, which helps area restaurants realize their farm-to-table concepts.
Kula is also home to the Kula Botanical Gardens, displaying a range of tropical flora, plus waterfalls, a koi pond, a covered bridge and an aviary. Sit down for casual meal at La Provence Maui, helmed by chef Thierry Michelier. Bite into classic French pastries or savory crepes, or opt for entrees like the Poulet Cordon Bleu or the Côtelettes D'agneaux. Later, retreat to the immersive Lumeria Maui, which offers classes and programs in yoga, meditation, healing arts, and more.
Lanai City, Lanai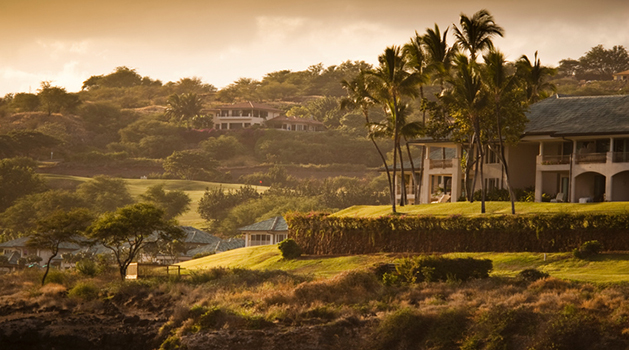 Once a booming plantation town founded to support the pineapple industry in the early 1900's, delightful Lanai City woos visitors with its cooler climate and with its cluster of local businesses surrounding pine-tree-filled Dole Park.
Stop in at the Lanai Culture & Heritage Center or shop for unique clothing at Local Gentry before joining revelers at Lanai City Bar and Grille, a favorite of locals. Catch a show at the Lanai Theater, a vintage movie house showing first-run films and hosting stage events. Later, return to the bar and grill to check in at the attached Hotel Lanai, the ideal respite for weary travelers. The hotel boasts island decor, pillow-top beds and Hawaiian furnishings, and offers continental breakfast.
Want to plan a trip to one of these hip vacations spots? Search flights, hotels, and vacation packages now.