Venture into the U.S.'s southernmost state and you're bound to find a beach escape worthy of your wildest dreams. But for something different, skip the hot spots and seek out the Sunshine State's lesser-known beach destinations — places that have remained under the radar for far too long.
Here are five beaches in Florida that deserve a little extra time in the spotlight.
Little Gasparilla Island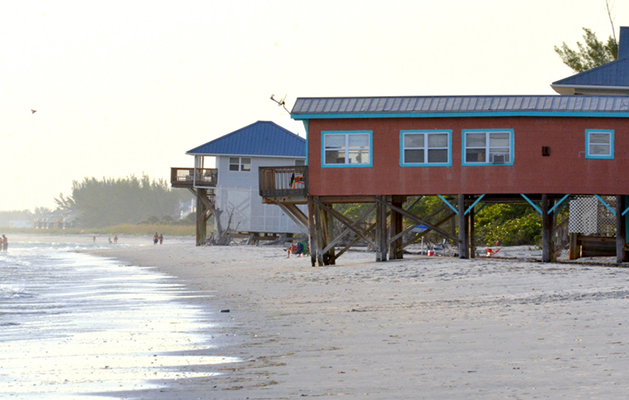 No cars, no roads, no traffic — just you and seven miles of unspoiled coastal scenery. That's what awaits at Little Gasparilla Island, one of a handful of au naturel barrier islands near Cape Haze on Florida's southwest coast between Fort Myers and Sarasota. Getting there will take some commitment, as there's no bridge connecting the heavenly strip to Florida's mainland. Visitors make the journey by water taxi, private boat or charter — or, best of all, kayak.
Like many Gulf Coast beaches, the sand is powder-white and the water is gin-clear and calm. There are no stores or vendors on the island, so bring everything you'll need with you for the day.
DuBois Park, Jupiter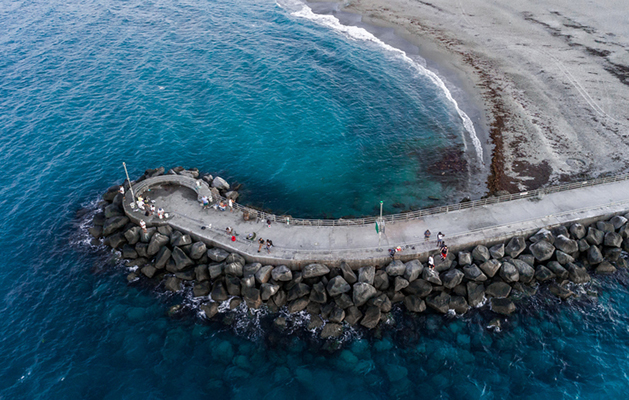 Tiny, well-hidden DuBois Park certainly doesn't get the accolades it deserves. Though there are several waterfront parks in Jupiter, DuBois boasts access to both the Loxahatchee River and the Atlantic Ocean, thanks to a wooden footbridge and path.
Considering its size, the park has an impressive list of amenities: a lagoon beach, an Intracoastal beach offering snorkeling, a boat ramp, 17 boat slips, a playground, bathrooms and showers, plus areas for fishing and picnicking.
History buffs shouldn't miss the DuBois Pioneer Home, a historic homestead built in 1898 by the DuBois family, early settlers of the town. The home sits on a Native American coastal shell mound, representing thousands of years of ancient Florida life. Guided tours are available Tuesdays and Thursdays at 10 a.m. and 1 p.m.
Search for travel deals near Jupiter.
Rosemary Beach
With a distinctive West Indian architectural style and access to the famous white sands of the Gulf of Mexico, Rosemary Beach stands out among sleepy communities on Florida's Northwest coast. Just a half-hour drive from Panama City Beach, this planned urban development community boasts brick-paved streets, boardwalks, Caribbean-style pastel façades and an eye-catching Main Street lined with restaurants and shops.
The entire village is meant to be walkable, inviting a more community-focused approach to life and travel. Start the day by savoring the Gulf's aquamarine waters, then head on foot to the AAA Four-Diamond Havana Beach Bar & Grill, serving European fusion cuisine.
Search for vacation deals in Panama City.
Hollywood Beach
Set between two buzzy beach destinations, Miami Beach and Fort Lauderdale, Hollywood Beach adds something different to the South Florida mix: a family-friendly town with unapologetic Old Florida vibes. Its 2.5-mile Broadwalk divides the white-sand beachfront from more than 50 eateries and 30 boutiques and shops.
Jog, roller blade or bike along the palm-tree-studded path, but at dusk be sure to head to the Hollywood Beach Theatre, where live music is played five nights a week from 7 to 9 p.m.
Choosing a place to stay is one of the best parts of visiting Hollywood Beach — it's home to more than 30 "Superior Small Lodging" hotels, boutique-style low-rise structures that are usually family-owned and decked out in vintage elements and bright colors. Check out the 1940s Walkabout Beach Resort, recently repainted white from hot pink, which features a tiki bar with head-turning happy hour specials.
Search for vacation deals near Hollywood Beach.
Bahia Honda State Park, Big Pine Key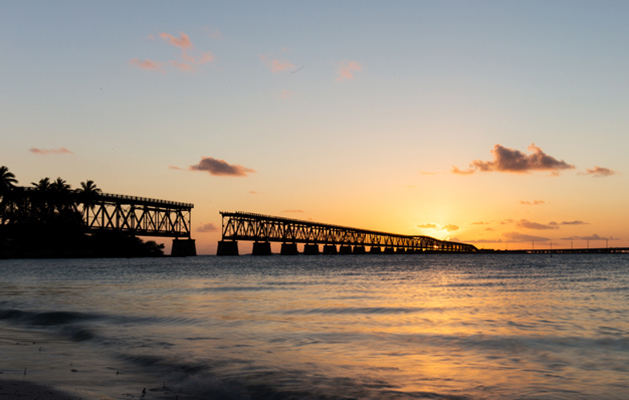 There's little you can do to prepare yourself for the dramatic scenery that spreads before you when you approach Bahia Honda State Park in the Florida Keys. Besides the striking blue water encircling you on all sides, there's the towering remnants of an overwater bridge piercing the horizon. This relic of Henry Flagler's railroad, designed to connect Key West to the mainland, was mostly destroyed by a hurricane in the 1930s, but a weather-worn section still stands.
The 500-acre state park gives access to clear waters and nearby reefs offering some of the best snorkeling in the Keys. Rent kayaks or schedule a snorkeling tour, and stick around for a quick bite to eat at the snack bar, or take advantage of picnic areas.
After your beach session, make the short drive east to Marathon to visit the Turtle Hospital, an environmental project where staff rescue and rehabilitate sea turtles before releasing them back in the ocean. Educational programs run daily on the hour from 9 a.m. to 4 p.m.