White-sand beach? Yup, Hollywood Beach has that. A charming beachfront promenade? That too. An old Florida vibe reminiscent of times passed? Rare — and yes, Hollywood has it.
The icing on the cake? There are a number of unique attractions in Hollywood Beach — a quirky indoor farmers market, an art-house movie theater and a weekly food truck gathering — all of which add even more character to an already distinctive Florida beach town.
Here are our picks for the best hidden attractions in Hollywood Beach and the surrounding area.
Yellow Green Farmers Market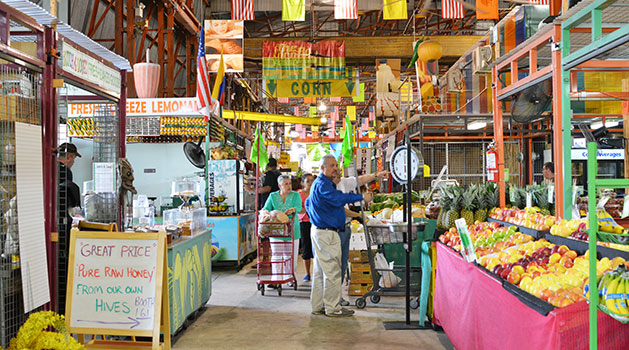 Located away from the beachfront bustle in a residential part of Hollywood, The Yellow Green Farmers Market (1940 N 30th Rd) is a 10,000-square-foot collection of stalls available for browsing every weekend from 8 a.m. to 4 p.m. There's plenty of fresh produce on display, and stall after stall of vendors sell arts and crafts, decor, jewelry and personal care products.
Bring your appetite — the choices at food stalls are almost overwhelming, with delicious aromas at every turn. Bonus: There are many options for vegans, vegetarians and health-food lovers.
Cinema Paradiso
Home to the annual Fort Lauderdale International Film Festival, the Cinema Paradiso (2008 Hollywood Blvd) was once a church and then a pottery store, and was finally refurbished and opened in 2013. Now the 72-seat art house theater shows documentaries, foreign language films, specialty films and more. The theater, with its distinctive Art Deco facade, has wheelchair access and a full bar.
World Market and Cafe
For fresh produce, exotic sweets and candies and a nice selection of European specialty foods, head to World Market and Cafe (1328 S Federal Hwy), a cramped but endearing grocery store carrying items you don't usually see on this side of the globe. A bonus is the buffet of to-go Russian comfort foods, hot and ready to be devoured.
Consider yourself adventurous? Forget for a moment that you can't read the packaging and choose a box of cookies or candy to sample.
Eddie Hill's Restaurant
A diner might seem like a strange place for a sushi and Thai food restaurant, but at Eddie Hill's Restaurant (134 N Federal Hwy, Hallandale Beach), the food makes it easy to overlook this quirk. Open every day for lunch and dinner, this unexpected find boasts an overwhelming selection of sushi, Japanese lunches and entrees, and plenty of Thai noodle and rice dishes. The food is fresh and service is quick and cheerful, which explains why the restaurant is always packed with sushi-savvy locals.
Hollywood North Beach Park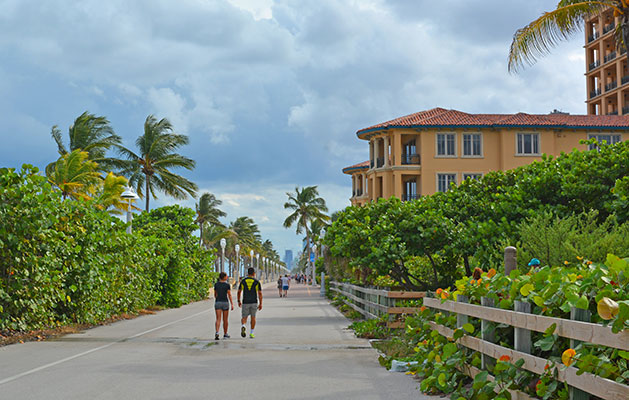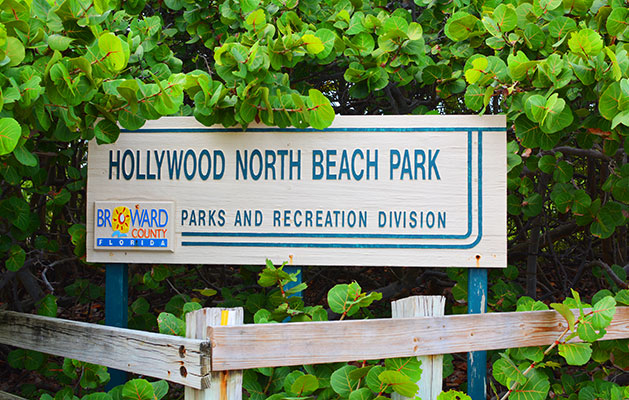 The 2.5-mile "Broadwalk" is one of the most beloved attractions in Hollywood Beach — that's a no-brainer. But head to the very northern end of the promenade to find Hollywood North Beach Park (3601 N Ocean Dr), which gives access to a much quieter, low-key stretch of beachfront than what spreads out southward.
The 56-acre park itself is home to two picnic shelters (available for rent), a parking lot, fishing piers and a 60-foot observation deck allowing panoramic views of the coastline. Grab an ice cream, a cold drinks or some typical American fare (hamburgers, hot dogs) at Turtle Cafe, open every day from 11 a.m. to 5 p.m.
With the park's proximity to the Ann Kolb Nature Center, there's almost no excuse for not checking out the 15,000-acre wilderness and wildlife preserve, which sits between Stranahan River and West Lake.
Monday Night Food Trucks at ArtsPark at Young Circle
Hollywood's ArtsPark at Young Circle (1 N Young Circle) is a pleasant retreat no matter what day or time you choose to visit — a playground, paved promenades and a stunning feature fountain grace its 10 acres of open green space. But if you save your visit for Monday nights, you'll feast your eyes on dozens of food trucks lined up and ready to dish out their fare. The event takes place weekly from 5:30 - 10 p.m. The early bird catches the worm — in other words, go before the trucks sell out of their best offerings.
---
Interested in discovering hidden attractions in Hollywood Beach or another Florida town? Browse our Florida deals, or sign up for our daily email to get deals delivered to your inbox.