With more than 60 miles of beachfront and that lush, warm climate, it's not shocking that Myrtle Beach, South Carolina is a hive of tourist activity. In fact, it's estimated that about 14 million people visit the area every year.
And those of us with even a modicum of knowledge about this Southern gem have heard about the main attractions in Myrtle Beach: the dominating SkyWheel and its amazing coastal views, the endless rows of shops and nightclubs at Broadway at the Beach - and then, of course, there's the ample stretch of sand, a haven for sunbathers and water sports enthusiasts.
Prefer to skip the ordinary? See our list of hidden attractions in Myrtle Beach for a more in-depth introduction to the area's distinctive culture, history, people and cuisine.
1. Croissants Bistro and Bakery
Before you take on any of those ambitious vacation plans, you'll need a hearty breakfast. Head over to Croissants Bistro and Bakery, a young, bright cafe occupying a corner in an otherwise unassuming bank building.
"Fresh" is the main theme here, and Croissants' menu is graced by some tried-and-true morning favorites, like omelettes, eggs benedict, and some Southern-inspired creations like shrimp and grits and smothered grits.
Carb-lovers will be seduced by sweet and savory crepes, waffles or pancakes, not to mention the whole slew of fresh baked breads and cakes offered at the bakery.
3751 Robert M Grissom Pkwy, Myrtle Beach, SC 29577
www.croissants.net
843-448-2253
2. Carolina Safari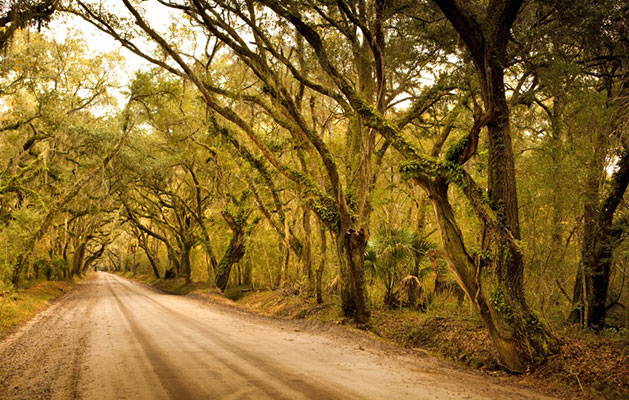 Though the word "safari" does not often bring to mind the South Carolina lowcountry, two area naturalists thought far too many tourists were missing out on a first-hand experience with Myrtle Beach's rich ecology, history and wildlife. And so the Carolina Safari Tour was born.
Hop into the back of the Jeep and enjoy the sights, sounds and smells of these lands. You'll see oak-lined streets and a former plantation homesite, historic chapels and buildings, and the diverse salt marsh ecosystem.
Get introduced to the area's Gullah population, whose African roots continue to influence and sustain its culture today. Guides will also take you by a graveyard and fill you in on some local ghostlore.
www.carolinasafari.com
843-497-5330
3. Historic Conway Riverfront
If the crowds and the rushed pace of Myrtle Beach have got you a little wound up, head a few miles west to the Conway Riverfront, the perfect place to decompress.
Main street in this historic downtown is a compact row of boutique shops and quaint eateries oozing small-town hospitality. Parking is free downtown, and if you stop by the Conway Visitor Center, you can snag some maps and even set up some guided tours.
On Saturdays, the town hosts a Farmers Market, where you can purchase local produce, jams and jellies, and other specialty items from 8 a.m. to 1 p.m.
4. Carolina Shag Lessons at Fat Harold's Beach Club
There's more than one way to let loose on vacation. If you haven't heard of the "Carolina shag" dance craze, you're missing out. Think of it as a cousin of swing, set to the upbeat rhythms of beach music, which bears some resemblance to the R&B and rock genres of the 50s and 60s.
This partner dance involves a lot of hopping, spinning and fancy footwork, but if you're up for the challenge, you can get the basics down at Fat Harold's Beach Club.
Every Tuesday night Fat Harold's hosts free dance lessons, bringing out shag newbies, and it's also a renowned gathering site for competitive shag dancers.
212 Main Street, North Myrtle Beach, SC 29582
www.fatharolds.com
843-249-5779
5. Dinner at the Parsons Table
Naturally, dining is among the top attractions in Myrtle Beach, but for a truly distinctive experience, you'll want to head to nearby Little River for dinner at the Parsons Table.
The former Little River Methodist Church, built in 1885, has been transformed into a fine dining establishment and showered with awards from Wine Spectator magazine, Open Table and TripAdvisor.
Remnants of the structure's past are easy to spot; stained and beveled glass, some original wood flooring in the dining room and a tasteful Tiffany lamp are just a few items.
At the Parsons Table, chef and owner Ed Murray Jr. serves classic regional dishes focusing on steak and seafood, and offers up an impressive wine list as well. The menu can get a bit pricey, so visit during happy hour (4:30 - 6:30 p.m.) to save a few bucks on drinks.
4305 State Rd S-26-850, Little River, SC 29566
parsonstable.com
843-249-3702
6. Sightseeing Cruise on the Princess Riverboat
Want great views of the area? Take it all in while gliding gracefully along the Intracoastal Waterway on the Barefoot Queen, a vessel that holds up to 135 passengers.
The Queen hosts sightseeing cruises most weekday afternoons. For an extra-special treat, book a dinner/sunset cruise and enjoy a nice meal in the lower level before heading to one of the upper levels to take in the sights. To top your evening off, watch as the sky changes into a palette of stunning colors.
Barefoot Landing Marina (Intracoastal Waterway at Barefoot Landing)
2051 Bridge View Ct, North Myrtle Beach, SC 29582
www.barefootqueen.com
843-390-2017
7. Murrells Inlet MarshWalk
Though Myrtle Beach's Boardwalk is probably the best known promenade in the area, visitors would be wise to include the Marshwalk on their list of must-see attraction in Myrtle Beach.
This Murrells Inlet gem is quite a bit smaller, of course, but what it lacks in size, it makes up for in charm. Stroll along the wooden path and get excellent views of the lush marsh. Then stop in at one of the casual dining spots lining the boardwalk.
The colorful and cute Bubba's Love Shak might be the most popular spot to relax and enjoy the waterfront while sipping wine or a frozen cocktail.
3979-4123 Highway 17 Business, Murrells Inlet, SC
marshwalk.com
---
This isn't a town you can conquer in just a few short days. Plan to stay a while, or just remember that whenever you return, there will be plenty of lesser-known attractions in Myrtle Beach to keep you intrigued and entertained on your vacation.
Planning a trip to Myrtle Beach? Browse our Myrtle Beach deals.