Florida is known as the Sunshine State, and with good reason — it's a subtropical haven of mild winters and hot summers, boasting 663 miles of beaches over 1,800 miles of coastline. Not surprisingly, one thousand people move to Florida each day.
We've all heard of the state's most celebrated beach hotspots, like Miami Beach, Tampa and Jacksonville. But what do you know about Honeymoon Island, Little Gasparilla Island, or Guana Tolomato Matanzas?
If those beach areas are unfamiliar to you, you have some research to do. Thankfully, VISITFLORIDA.com has unveiled its Florida Beach Finder, an interactive, virtual tool for discovering your perfect Florida beach based on your personal preferences.
The tool presents you with four sliding scales describing a range of beach experiences, from "adventurous" to "laid back," or from "family friendly" to "romantic," for example.
Adjust the scales according to the attributes you like and the beach display will change before your eyes. Each beach displays a percentage to signify how close it matches your preferences.
When you see a photo you fancy, click on it for the 360˚ Google maps panoramic view, and let the exploration begin. A small paragraph describes the beach — click for more information about that part of the state.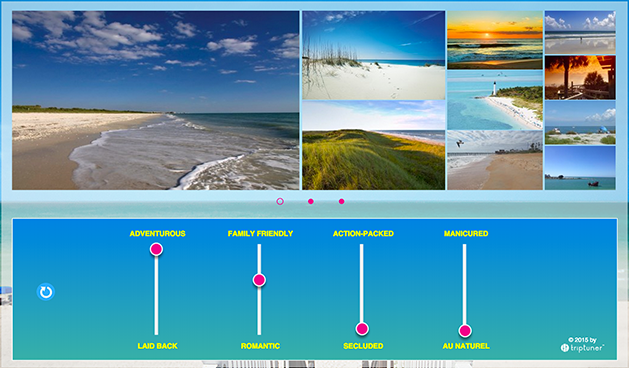 The Florida Beach Finder was created as part of a partnership between VISIT FLORIDA (the Official Florida Tourism Industry Marketing Corporation) and Google, who collaborated to photograph the state's beaches and make them available to viewers around the world.
"For potential visitors, it's an opportunity to dig their virtual toes into any of Florida's beaches — and find their dream beach before they come. For Florida, it's an opportunity to showcase that we have the greatest variety of beach experiences in the world," said Susannah Costello, VISIT FLORIDA Vice President, Global Brand.
Check out the Beach Finder tool for yourself, and see what beach gems you can uncover. Afterward, check out our travel deals to Florida and start planning your ultimate beach getaway.