Got a Cancun obsession? You're not alone. The town's shimmering Caribbean coastline and dizzying selection of all-inclusive resorts make for quite an alluring beach vacation spot. But there's a surplus of inviting beach towns in this vast country that deserve the spotlight, each with something different from (but just as good as) what Cancun offers. Want specifics? Here we bring you four awesome beach towns in Mexico besides Cancun.
Want to skip straight to the bargain vacations? Search travel deals from top sites now.
Puerto Vallarta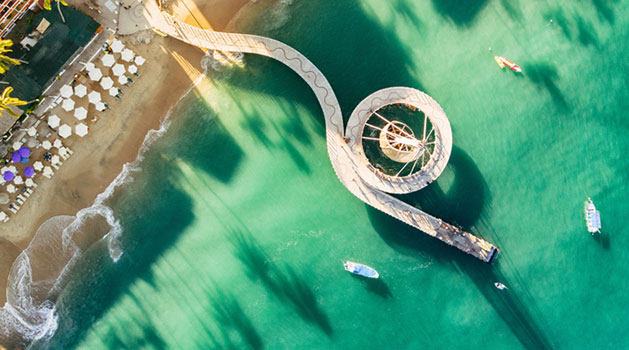 Known for its mountainous backdrop, dramatic waves and glittering cliffside dwellings, Puerto Vallarta has been on North Americans' radars since the 1960s, when publicity for Night of the Iguana, starring Richard Burton and Ava Gardner, brought scenes of tropical bliss into American homes.
In terms of landscape, Puerto Vallarta has little in common with Cancun. The former boasts a rugged, rocky coastline and tan sands that make it seem worlds away from the Yucatan peninsula's Caribbean appeal. And though it certainly offers a lively scene for nightlife seekers, it's more commonly known as a romance destination, with a reputation for fiery sunsets and a hip restaurant scene. The environment is laid-back and inclusive — in fact, its gay-friendly attitude has earned it the nickname of "San Francisco of Mexico."
What to do
You'll kick yourself if you miss your once-in-a-lifetime chance to see Playa del Amor, a hidden beach under a mysterious gaping hole in one of the rocky Marietas Islands just off the mainland. And just how did the hole get there? Legend has it that the hollow is only about 100 years old, and was created when the Mexican Government conducted bomb tests here, causing an explosion that marked the birth of this beach.
Make plans to visit the Malecón seaside promenade, a 12-block stretch running alongside the Old Town, also known as the Romantic Zone, yet another must-see. Art galleries abound here, where you can snag hand-made souvenirs that your friends and family will actually enjoy.
Progreso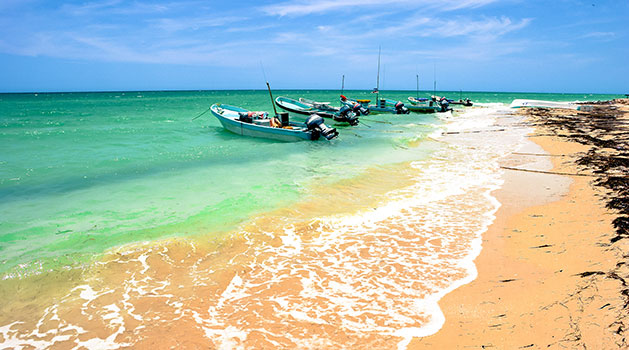 Never heard of Progreso? That's a good thing, if you like uncrowded beaches and the quiet village vibe.
Located on the northwest tip of the Yucatan peninsula, just outside of Cancun's frenzied throng, this up-and-coming town is slowly revealing itself to a new generation of North American visitors who make their way here on cruise ships. Its most iconic feature is its four-mile-long pier, the longest in Mexico, which offers splendid ocean views.
Get up-and-close views of coastline with a stroll along the Malecón — you'll pass white-sand beaches lined with thatched-roof huts, plus candy-colored restaurants and shops across the street from the ocean.
What to do
Arrange for an excursion to Arrecife Alacranes, a nature reserve consisting of a smattering of coral islands and a surrounding reef bursting with marine life, where the snorkeling and diving are top notch. Only one of these secluded islands, marked by a red-and-white lighthouse, is inhabited.
Or head to top-rated Eladio's Bar, a seafood joint specializing in Yucatan specialties such as cochinita pibil, made with slow-roasted pork, and papadzules, egg-filled corn tortillas in pumpkin seed sauce.
Don't miss the opportunity to see Chichén Itzá, Uxmal and Dzibilchaltún, wonderfully preserved Mayan archeological sites just a few hours away by bus.
---
RELATED
4 Fabulous Beach Towns in the Dominican Republic (Besides Punta Cana)
How to Find Cheap All-Inclusive Resorts in Mexico
Vacation Rentals in Puerto Vallarta: 5 Top Editor's Picks
---
Mazatlan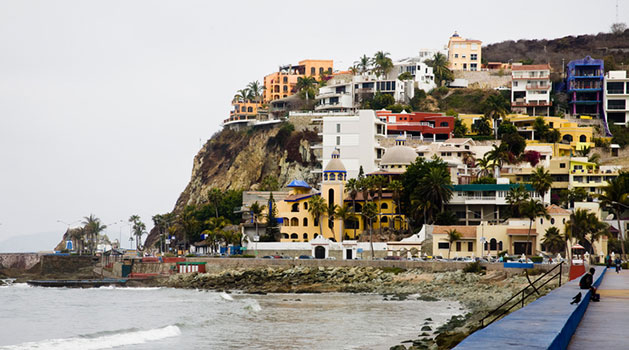 In the middle of last century, Mazatlan was a well-known tropical playground for North Americans, and the influx of visitors caused beach hotels and restaurants to pop up along town's miles-long stretch of golden sand.
Though it suffered through a slump after its 1950s heyday, this classic resort town is now in full-on comeback mode, and popular draws like the Malecón seaside boardwalk and the colorful Old Town sector have benefited the most from revitalization efforts.
Unlike in Cancun and some other popular beach towns in Mexico, you're more likely to find a variety of property styles and price ranges — not just the insular mega-resort option. That's not to say there aren't luxury all-inclusive resorts here. The Pueblo Bonito Mazatlan, a AAA 4-Diamond property, is a luxe option offering suite accommodations and access to the ocean and two outdoor swimming pools.
What to do
You can sip margaritas at beach bars in the Golden Zone to your heart's content, but to find this town's true character, stroll through the streets of the colonial Old Town and admire historic structures like the Immaculate Conception Basilica and the Teatro Angela Peralta. Be sure to hit up El Mercado, too, where vendors sling everything from handmade goods to meat and vegetables.
For pure island serenity, take the ferry to the Stone Island peninsula, an undeveloped stretch that's perfect for a day trip away from the busy town center.
Cabo San Lucas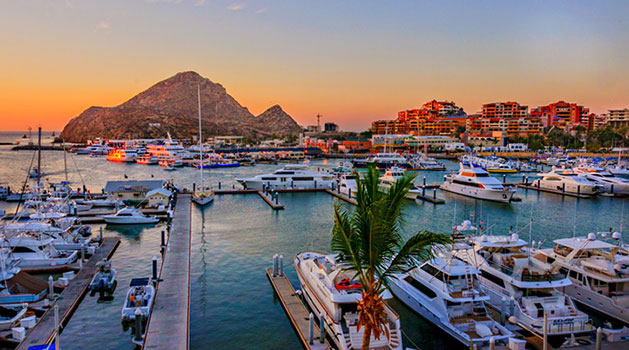 Located on the very tip of the Baja California peninsula, Cabo San Lucas has a few notable claims to fame. First among them is El Arco, or The Arch, the iconic coastal rock formation that has come to symbolize the area. Nearby is Lover's Beach, a golden sand enclave between jagged cliffs, and Divorce Beach, its wilder, windswept counterpart.
Though there are plenty of natural attractions to keep visitors busy, most people do spend a portion of their vacation unwinding in the town's many hotels, restaurants and bars. But who can blame them?
What to do
The closest beach to the town center is crescent Medano Beach, flanked by mountains on either side. If you're not one to lie out all day, you'll be in good company — it's all about action in Cabo, where activities such as snorkeling, kitesurfing, jetskiing and diving reign supreme.
Curious partygoers will almost surely wander into Cabo Wabo Cantina, the famous bar and live music venue founded by rock musician Sammy Hagar. Come for happy hour between 9 a.m. and 6 p.m. and enjoy two-for-one beers or margaritas while listening to live music.
Around sunset, head to the marina to dine at one of the surrounding waterfront cafes, or take a chance on the more modest offerings on the Paseo de la Marina just a few blocks away.
---
Inspired to find the perfect vacation to one of these beach towns in Mexico? Search travel deals now.