With Fort Lauderdale to the north and Miami to the south, the enchanting town of Hollywood Beach, Florida, often gets overlooked for those flashier, big-ticket beach destinations.
But for anyone eager to get a taste of Old Florida — one without high-rise condos, thong bikinis, pulsing beats and peak prices — Hollywood might be just the thing.
For starters, Hollywood Beach offers easy access to the oceanfront, with no busy roads to separate its sandy shore from the dozens of family restaurants and ice cream shops that line it.
That's thanks to the "Broadwalk," a 2.5-mile seaside promenade where cyclists, rollerbladers, and joggers converge, as well as those who simply want to stroll in search of shade.
And then there's the vintage, no-frills motels dotting the Broadwalk – pastel-hued structures bearing classic signage that bring to mind a slower-paced version of the coveted beach life.
Nearly 30 of these low-rise, boutique-style motels exist in Hollywood. All have fewer than 50 rooms, and many offer weekly rates that make a long-term stay increasingly easier to justify.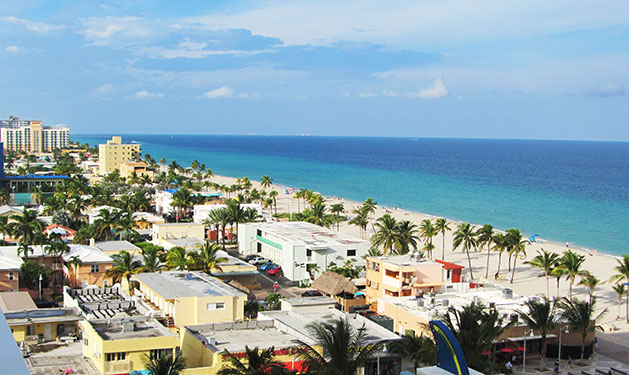 So what can a beach vacationer do in this town, if extra cash is scarce? It turns out you have plenty of options.
Here are our picks for free and cheap attractions in Hollywood Beach:
Hitch a Ride on the Hollywood Trolley
Need to get from the beach to the tree-lined Hollywood Boulevard? You can't beat the $1 trolley fare (kids under 5 ride free).
This old-timey-style mode of transport will whisk you to several spots along the beach and finally head into Hollywood's downtown, home to low-key watering holes, restaurants serving ethnic cuisine, and even the Cinema Paradiso (2008 Hollywood Blvd), an art-house theater with just 82 seats, where a ticket runs between $8 and $10.
Teetotalers should check out the woodland-themed Mystic Water Kava Bar (1820 S Young Circle) to experience a relaxing, root-based concoction served under dim lighting.
Check Out the ArtsPark at Young Circle
It's green space galore at the ArtsPark (1 N Young Circle), a circular open area of 10 acres that boasts paved walking paths, a children's play area and a feature fountain by Ritsuko Taho, acclaimed Japanese artist.
Save your appetite (and your bucks) and go on a Monday night, when food trucks line up and turn the park into a community picnic. Admission is free and the event runs from 5:30 – 10 p.m. Grab a taco, a burger or a sweet treat and enjoy your feast on the grass.
On Fridays, the park hosts a free movie showing at 8 p.m. – it's lawn seating, so make sure to bring a blanket or beach chair.
Enjoy Happy Hour at a Tiki Bar
Now there's two things that go together beautifully – tiki bars and discounted drinks. Hollywood's smattering of bars are of the irresistible thatched-roof variety — they also impress with ocean and promenade views.
Plus, they have exactly the types of drinks you'd expect to find in such places, like cold brews and mean piña coladas.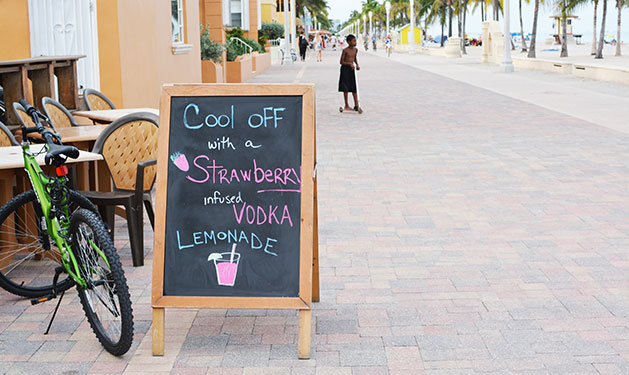 Our recommendation: Head north to the formerly bright-pink Walkabout Beach Resort (2500 N Surf Rd) on the quieter end of the Broadwalk. Here, locals and regulars chat about daily life under the protection of the tiki bar or umbrellas. After a few drinks, the dreamy blue color of the sky and fresh breezes are intoxicating.
Come between 4 p.m – 7 p.m. on weekdays to get domestic drafts or to save a dollar on domestic and imported bottles, as well as glasses of wine.
Let the Kids Cool Off at Charnow Park
Families could spend hours picnicking under the pavilion or enjoying the playground at Charnow Park (300 Connecticut St), located along the Broadwalk.
The splash fountain is an endlessly fun diversion for little ones; nearby, six restored paddleball courts attract crowds just as they did when they first popped up in the 1930s. Public restrooms are available.
Listen to Live Music
Not everyone in town was happy when the hulking Margaritaville Beach Resort (1111 N Ocean Dr) muscled its way onto Hollywood Beach's Broadwalk— it seemed to go against the town's decidedly anti-megaresort vibe. But even naysayers have to admit that the resort hosts pretty solid nightly live performances (free of charge) in the Hollywood Beach Theatre, even providing seating for those few souls not dancing.
Once the sun sets, the area around the bandshell is where all the action's at. Grab a $2 spumoni ice cream cone from Surf N Spray (1404 N Broadwalk) or a $3 cheese pizza slice from the takeout window at Broadwalk Restaurant and Grill (1400 N Surf Rd) before joining the crowd.
Bask on a Clean, White-Sand Beach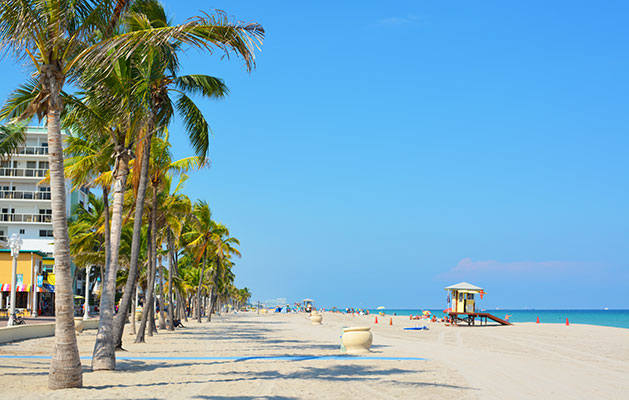 It won't be a surprise to anyone that there's no charge to lie on Hollywood Beach's white sand, or swim in its warm, soothing waters.
But it's worth noting that this sandy stretch has been named among Greater Fort Lauderdale's five "Blue Wave Beaches," a designation given by the Clean Beaches Council to praise the Hollywood's clean, safe and environmentally friendly oceanfront.
Where to Stay
Summertime rates at the Margaritaville Beach Resort hover between $215 and $229 for June dates – book in late July or August for rates under $200 per night. You'll have access to plenty of on-site restaurants, such as Jimmy Buffett's Margaritaville, LandShark Bar & Grill and the 5 o' Clock Somewhere Bar & Grill. Relax by one of two pools on the beach level, or head to the rooftop pool for incredible ocean views.
The vintage façade of the Diane Motel (1300 N Broadwalk) is one of the Broadwalk's more striking visual elements. For simple digs with easy beach and promenade access, you can't beat this family-owned motel. Weekday rates in June and July are in the $150-$175 per night price range.
If you prefer to stay downtown, check out the Ramada (1925 Harrison St), a budget hotel with a quirky vibe and lush island appeal. The best place to relax is the second-floor pool and lounge area. Breakfast is free and so is WiFi. You can get a room for as low as $55 per night on weekdays through the summer; weekends are around $100 per night.
Editor's Pick: Richard's Motel (1219 South Federal Highway) is one of several small, family-owned properties operating under the "Richard's" moniker. But we love this particular spot for its super-cute outdoor pool, exotic landscaping and consistent WiFi. Many rooms come with kitchens, and guests always have access to the barbecue and picnic areas.
---
Ready to plan a Florida vacation? Browse our deals to the Sunshine State or sign up for our daily email in the box below.