For most, a beach vacation on a Caribbean island is a no-brainer. There's nothing quite as strong as the allure of palm trees, aquamarine water and colorful architecture — not to mention a more relaxed pace of life.
But before you commit to a destination in the West Indies (and the long trek that invariably comes with it), consider these easy-to-reach Florida escapes with a host of Caribbean-inspired characteristics, from gin-clear waters to brightly colored façades.
Rosemary Beach
A walkable village featuring distinctly West Indian architecture and a medley of boutique shops, restaurants, green spaces and residences, Rosemary Beach is a slice of the Caribbean set along Florida's glittering Panhandle.
Though a laid-back vibe prevails in this master planned community, visitors can find some action at local gems like the 30A Farmers Market, Havana Beach Bar & Grill or La Cocina Mexican Grill and Bar.
You can easily reach the beachfront on foot from any part in town, and the Gulf of Mexico's bone-white sand and gentle waves bring to mind far-flung island escapes.
See vacation deals near Rosemary Beach.
St. Augustine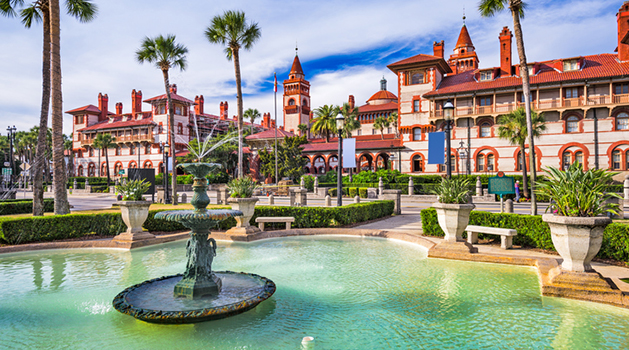 St. Augustine was founded in 1565 and still bears many reminders of its European colonial period — not unlike former Spanish colonies in the Caribbean. The imposing Castillo de San Marcos, the oldest masonry fort in the continental U.S., is similar to those standing guard in Puerto Rico, the Dominican Republic and Cuba. Tour the 300-year-old citadel to behold its weather-worn bastions and greenery-filled courtyards.
In St. Augustine's historic district, you'll be charmed by a variety of architectural styles — everything from Spanish Colonial and Spanish Renaissance Revival to Moorish and Queen Anne styles. For insight into Native American construction designs, visit the Fountain of Youth Archeological Park, home to a replica of a Timucua village.
See vacation travel deals in St. Augustine.
Key West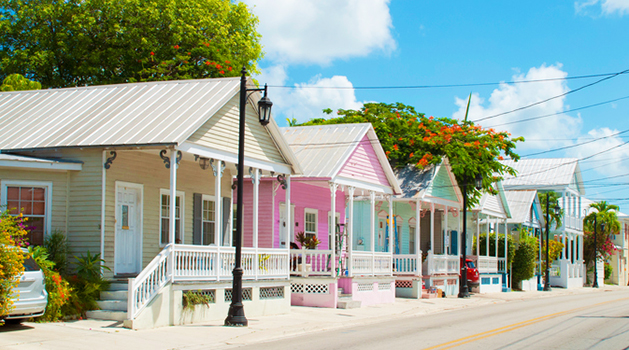 Key West's Caribbean flavor is obvious from the moment you set foot on the quirky eight-square-mile island. Between drifting aromas of café con leche to the blue-green waters encompassing the tiny land mass, you'll swear you've been transported to a locale much farther from the Sunshine State. Cigar rollers, rumrunners, buccaneers and seafarers all had a role to play in Cayo Hueso's history, and the town remains a draw for those seeking a more offbeat approach to life.
Stroll the length of Elizabeth Street (near Duval Street) for views of pastel-hued clapboard cottages surrounded by bougainvillea. Later, sign up for a snorkeling tour to see life under the ocean, or hit the water in the evening to witness the sunset like you've never seen it — while sipping a few cold piña coladas.
See vacation travel deals in Key West.
Boca Grande
With a tiny downtown and easy access to a slice of unspoiled coastline, Gasparilla Island's historic Boca Grande resembles the many small fishing villages dotting the shores in Caribbean islands. Low-rise buildings are centered around Railroad Ave, where Loose Caboose restaurant serves fresh-caught seafood and homemade ice cream in a former train depot. Tarpon fishing is big business here, and a few fishing charters downtown help keep the sport alive.
To see more of the island, forgo the car rental and get around by golf cart, as the locals do. You can also hop on a bike and pedal the length of the Boca Grande Bike Path, which spans several miles from north to south. No matter how you get there, be sure to make the trek to the southern tip of the island to view the lighthouse at Gasparilla Island State Park, or experience true deserted-island remoteness at Cayo Costa, a short boat ride away.
See vacation travel deals near Boca Grande.
Captiva
Occupying a skinny strip of land on Sanibel Island, unhurried Captiva could easily capture any Caribbean lover's imagination. Subtropical foliage spills over the town's one major road, Captiva Drive, as well as its side streets, lined with cheerfully painted homes. There are no mega-resorts here, but there's a smattering of restaurants and shops in town, including the whimsically kitschy Bubble Room, decked out in multicolored stripes.
An afternoon at the beach should rank high on your to-do list, especially with the Gulf of Mexico's reputation for tranquil seas and surprising clarity.
For dinner, get a table at The Green Flash, boasting water views and a seafood-focused menu, or opt for sunset vistas and happy hour concoctions at The Mucky Duck.
See vacation travel deals near Captiva.
Fort Myers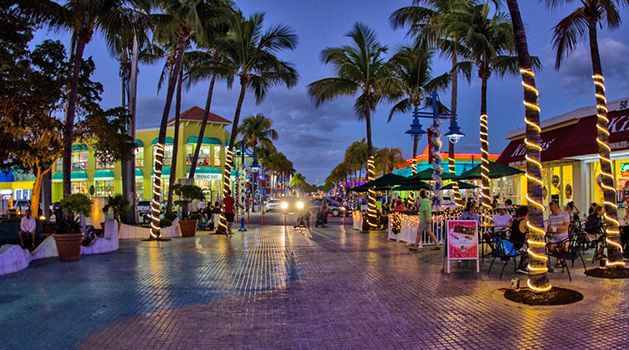 Those with a taste for Latin fare will be impressed by the variety of options in Fort Myers — everything from mofongo and Cuban sandwiches to empanadas and tacos.
But for ocean views that rival those in places like Puerto Rico, Jamaica or the U.S. Virgin Islands, head away from downtown to the coastal community of Fort Myers Beach, where pastel-colored buildings and rows of palm trees get beachgoers in a tropical state of mind.
Seafood spots, gift shops and watering holes are sprinkled around Estero Boulevard, while two beach parks on either side of a fishing pier provide a place to set out a chair and umbrella. Cross the Matanzas Pass Bridge for even more culinary and retail options, including Doc Ford's Rum Bar and Grille and Dixie Fish Company.