To be well-connected to the rest of South Florida and to popular beach destination in the Caribbean and Mexico, you couldn't choose a better airport than the Fort Lauderdale-Hollywood International Airport (FLL).
Not only is it a frequent stop for budget air carriers that often feature sales on last-minute fares, it's also an essential starting point for cruise voyages and for trips to nearby beach communities. Want to fly to Florida on the spur of the moment for a weekend beach trip, or to catch a budget cruise departing in just a few days? Due to its wide availability of flights, you'll likely find yourself at FLL, a popular airport with an interesting past.
Here we detail five things you may not have known about one of the nation's most important air hubs.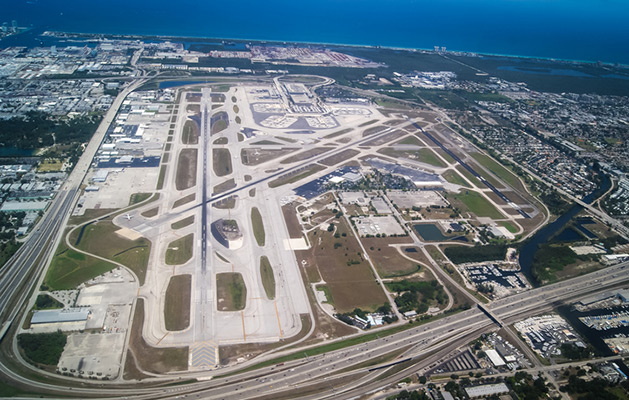 1. It's a busy airport — and it's still growing
The Fort Lauderdale Airport ranks 21st in the nation for total passenger traffic, putting it just under the ranking of LaGuardia Airport in New York City.
The airport sees more than 325 departures and 325 arrivals per day. And new routes are being announced all the time. In 2017, Norwegian Air added service from Fort Lauderdale to Barcelona and to Martinique, while domestic airlines expanded with new routes between FLL and major U.S. cities such Louisville, Milwaukee, Hartford and Pittsburgh.
2. It's the major South Florida departure and arrival point for budget carriers
Low-cost carriers such as Southwest, JetBlue and Spirit all fly into Ft. Lauderdale — but not Miami. If you want to get down to South Florida as cheaply and as quickly as possible, plan to arrive at FLL instead. And watch for sales from these airlines — Southwest, for example, runs a promotion nearly every week, where it's not uncommon to find last-minute flights to Ft. Lauderdale from cities such as Atlanta, Austin, New York and Washington DC for as little as $41 one-way.
3. Local bus or train service can get you to neighboring cities — including Miami
Just because you arrive in Fort Lauderdale doesn't necessarily mean you have to stay there. Public transit can whisk you between the airport and other South Florida destinations. Take the city bus or the Greyhound between FLL and Miami or Miami Beach, or catch the Tri-Rail commuter train between cities. Tri-Rail also serves beach cities to the north, such as West Palm Beach, Delray Beach, Boca Raton and Pompano Beach, and also takes passengers directly from FLL to the Miami airport.
Even Tampa, gateway to Gulf Coast communities, is within reach — Amtrak offers service between the two cities, departing from a station just a few miles north of the Fort Lauderdale Airport.
An added benefit of choosing bus or train travel is that you rarely have to book tickets far in advance, making last-minute journeys easier to plan.

4. It offers easy access to two major cruise ports
Both the Port of Miami and Fort Lauderdale's own Port Everglades serve as departure points for cruises sailing to Mexico, the Bahamas and Caribbean islands. Carnival, Celebrity, Holland America, Norwegian, Disney, Princess, MSC and Royal Caribbean all sail out of one or both ports. Some of these cruise lines offer last-minute sailings discounted up to 80 percent.
Port Everglades is just two miles from the Fort Lauderdale Airport, and Port of Miami can be reached in under an hour. Between shared shuttles, luxury sedan services, Tri-Rail, taxis and Uber, you have a variety of choices for getting to your cruise port.
5. It used to be named for a WWI aviator
When the Fort Lauderdale Airport first opened in May 1929, it was called Merle Fogg Field, named for a World War I aviator who died in 1928. (His friends raised funds to open the field in his honor.) Legend has it that the land had once been a golf course that was played on by President-elect Warren Harding in 1921. By 1942, the field had been converted into Naval Air Station Fort Lauderdale, and by 1953, the airport was offering passenger service.