We all remember our first trip to the ocean, and the indelible sensations that came with it: salty breezes, refreshing water, epic sunsets. But don't forget that some of the best beachfront experiences await in places nowhere near the Atlantic or Pacific oceans.
Many lakefront destinations in the U.S. offer everything you need in a beach trip (minus the salt), and often aren't nearly as crowded as their seaside counterparts. Plus, they're rife with regional cuisine, historical sites and unique flora and fauna. When you're ready to put your ocean fantasies aside, head to one of these splendid freshwater retreats.
Oval Beach, Saugatuck, Michigan
A frequent addition to "Best Beach" lists, Oval Beach is backed by sand dunes, wooded trails and the Kalamazoo River. During the summer, this stretch can get quite busy, as families from Illinois, Ohio and Michigan descend on the beach town to enjoy some sunny downtime.
Aside from gentle waves and cool breezes, Oval Beach offers ample parking, bathrooms and concessions. Car-free adventurers can reach the beach by way of a chain ferry across the Kalamazoo River, then a steep flight of steps at Mount Baldhead Park, followed by sandy trails descending to the lakefront.
No matter how dazzled you are by the beach, be sure to set aside time to roam through Saugatuck, a delightful village packed with eateries, ice cream shops and galleries focusing on local artisans.
North Avenue Beach, Chicago, Illinois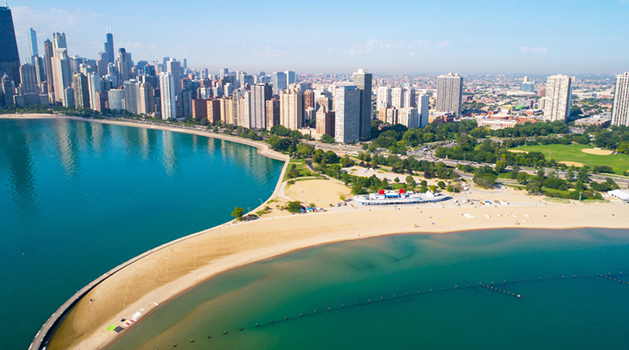 Once the long winter months end, this beach becomes party central for Chicago residents eager to shake off the last vestiges of cabin fever. Of course, Lake Michigan is fringed with mile after mile of sandy expanses (26 miles in total), and many of them are even lovelier than North Avenue Beach. But none have the alluring combination of prime city views, a spacious beachfront and a handful of casual eateries right along the sand, not to mention easy access to the immensely popular Lincoln Park Zoo.
On summer weekends, North Avenue Beach feels more like South Beach than a typical Midwestern lakefront getaway. Music, drinking, sunbathing, swimming and beach volleyball are enjoyed with abandon, especially around Castaways, a boat-themed bar and grill with lively rooftop parties.
Silver Beach State Park, St. Joseph, Michigan
One of several adorable beach towns dotting Michigan's southwest coast, St. Joseph boasts two lakefront parks divided by the St. Joseph River and two walkable concrete piers jutting out over the water. At Silver Beach State Park, there are bathrooms and parking, but you'll also find an impressive kids' water fountain and the Silver Beach Carousel, a restored merry-go-round with beautifully detailed horses. A drink or a snack is never too far — Wally & Gertz, located right on the sand, is the go-to spot for hot dogs, chili cheese fries or fresh squeezed lemonade.
After a wading session in Lake Michigan's clear and cool waters, pack up and head to tree-lined State Street, dotted with wine tasting rooms, cafes, galleries and gift shops. Before leaving the area, tack on a trip to a local winery — Lemon Creek Winery, Domaine Berrien Cellars or 12 Corners Vineyards are a few options. For true indulgence, drive to nearby Coloma to sample truffles and fudge at the Chocolate Garden, which features a cute back patio perfect for sipping coffee.
Sand Harbor Beach, Lake Tahoe, Nevada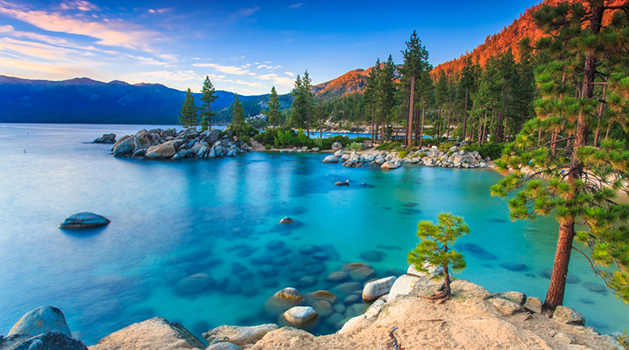 Fronting the largest alpine lake in North America, Sand Harbor Beach falls on the Nevada side of Lake Tahoe, and is one of the best places along the lake's shore for swimming, kayaking and scuba diving. That's because the water here is as clear as glass, and waves, if any, are subtle. Before hitting the water, hiking nearby trails or setting up a picnic along the beachfront, head to the Sand Harbor Visitor Center, where you can learn more about the lake and its geological significance.
In summer, Sand Harbor Beach's popularity means parking can be scarce. Luckily, there's a shuttle service available from Incline Village for just $4, which includes the entry fee into the beach.
Sleeping Bear Dunes National Lakeshore, Glen Arbor, Michigan
Featuring dramatic sandy bluffs and views of North and South Manitou Islands in the distance, Sleeping Bear Dunes is the premier natural attraction along Michigan's northwestern coast. The dunes' massive slope drops 450 feet down to a pristine shoreline, where aquamarine water meets soft white sand. Some thrill-seekers make the ascent from the shore all the way up to the crest of the bluffs, though signs clearly warn against doing so (it's a daunting uphill climb not for the faint of heart). Views are best from the wooden observation deck, often featured in spectacular sunset photography of the lake.
While you're in the area, make a stop at one of the Leelanau Peninsula's many orchards, vineyards or fruit farms, or visit the tiny town of Glen Arbor for a local brew and a bite to eat.
Grand Haven State Park, Grand Haven, Michigan
Come late May, the golden sands at this state park are peppered with beach blankets, folding chairs and umbrellas. But with such a long, wide beachfront, it's unlikely that visitors will be unable to find a spot.
Grand Haven State Park offers three public bathrooms, plus a parking lot, RV hookups and a riverfront boardwalk leading to a 19th century lighthouse.
For active types not content to sunbathe, there's a surf shop, a marina and water sports rentals near Grand River's narrow inlet, located about a mile away from the beach.
Also close is Duncan Woods, the ideal place to escape the afternoon sun. This 40-acre wooded park boasts walking trails and picnic tables near the entrance. Look for the legendary "Tattooed Lady" tree, whose trunk is adorned with the initials of love-struck hikers.
As the day comes to a close, be sure settle in for a stunning sunset. In summer, it doesn't come until close to 9:30 p.m., but the incredible scenery is worth the wait.
---
Make your way to one of these amazing beaches today with flights, hotels, and car rentals.