This summer has flown by, and believe it or not, we're less than two weeks from Labor Day. If you're looking to squeeze in a last-minute beach getaway, but haven't made any arrangements yet, we've got some suggestions.
Whether you're looking for a weekend full of outdoor adventure or relaxing and unwinding before back-to-school, here are a handful of Labor Day weekend getaway destinations along the eastern coast of Southern states that will leave you with some warm memories for the chillier days to come.
Tybee Island, Georgia
There's a reason Tybee Island was named one of "America's Happiest Seaside Towns" by Coastal Living Magazine. This charming beach town has a lot going for it — top-rated restaurants, one-of-a-kind boutiques, beautiful beaches, wildlife and activities ranging from fat tire bike tours to dolphin watching by boat.
In Tybee, you feel like a local as soon as you step off the ferry — chalk it up to that unmistakeable Southern hospitality.
Soak up the sun while brushing shoulders with the locals in this low-key paradise, and be sure to join your new friends for a drink and great live music at Doc's Bar.
St. Simon's Island, Georgia
Voted one of "America's Favorite Beach Towns" by Travel + Leisure Magazine, St. Simon's Island is another delightful Southern beach town, which draws year-long residents in addition to its seasonal visitors.
Stay in a quaint cottage in downtown St. Simon's and take a trolley tour, or visit the famous Lighthouse Museum.
A favorite local spot is the St. Simon's Fishing Pier, one of only three on the Georgia coast. Even if you don't catch any fish, catching a gorgeous sunset view from this spot in a sure thing.
Bald Head, North Carolina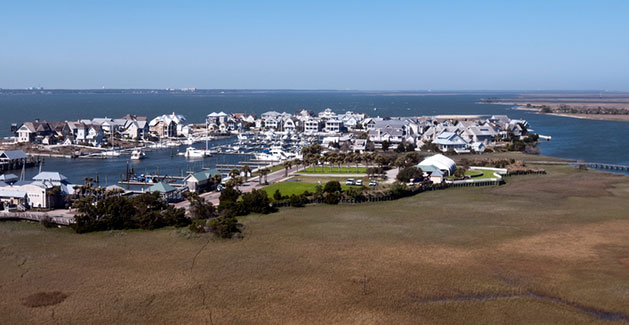 This little piece of heaven will help you forget the stress of everyday life this Labor Day. Say "goodbye" to rush hour and "hello" to happy hour, because this remote island is a no-car zone. That's right — leave your vehicle behind and take the ferry to Bald Head's 14-mile stretch, where all you need is a golf cart to get around.
While you're there, take a tour of Old Baldy, the oldest lighthouse in North Carolina. This island is also home to scenic Kent Mitchell Nature Trail, where you can get up close and personal with Bald Head wildlife.
Sea Islands, South Carolina
This collection of tidal and barrier islands stretches from South Carolina into Georgia. Some of the best-known islands include Fripp Island, Harbor Island and St. Helena.
Famous for their peaceful beaches on one side and their salt marshes on the other, these coastal destinations offer both relaxation and heart-pumping outdoor activities. Set aside some time to enjoy golfing, canoeing or venturing to three miles of beaches at Hunting Island State Park.
The park is just a short drive from the historic town of Beaufort, South Carolina, where movies such as Forrest Gump and G.I. Jane were made. Take a movie tour in town to spot where some of your favorite scenes were filmed.
Looking to delve even deeper into the area's history? The Parris Island Museum highlights the legacy of the United States Marine Corps as well as the overall history of the Port Royal region.
---
Interested in taking a last-minute Labor Day beach trip? Browse our deals or sign up for our daily emails.