Whether you're a Miami Beach expert or a neophyte, you'd probably have no trouble naming the area's most famous beach. (South Beach, of course.) But as locals know, there are plenty of other sandy stretches to explore in this glittering corner of the Sunshine State.
Relinquish your South Beach vacation fantasies for a minute and join us for an introduction to the Miami area's lesser known beach gems.
Virginia Key Beach Park
Featuring a row of shallow, protected coves, Virginia Key Beach Park is where savvy locals go for quiet beach time away from the tourist-laden beaches along barrier islands to the north. Shade is abundant here, thanks to a thickly wooded shoreline.
Claim a picnic table and settle in for a sunny day of salty breezes and ocean views. Before you leave, be sure to check out the carousel and the miniature railroad. Parking is $10.
Haulover Beach Park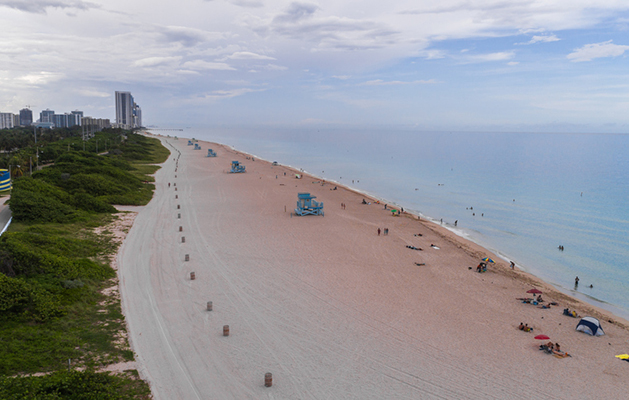 Nude beaches are a dime a dozen in Europe, but not exactly common in Florida. At Haulover Beach Park, Miami's very own clothing-optional beach, you can trade your swimming suit for your birthday suit.
Whether you choose to go au naturel or not, don't miss your chance to sun yourself on this beautiful mile-and-a-half expanse, home to a dog park, a bayside picnic area, several parking lots and a food truck event every Tuesday from 5:30 to 9 p.m.
Search vacation rentals in Miami Beach.
Round Beach, Matheson Hammock Park
Located south of downtown in Coral Gables, Matheson Hammock Park offers a man-made circular lagoon and a sandy, crescent-shaped beachfront. Little ones won't have to battle the waves here, and adults will find a tiny palm-fringed paradise with a more serene atmosphere compared with other Miami area beaches. (Entrance fee is $5 on weekdays and $7 on weekends and holidays.)
Bonus: Once you've dried off, you can explore the winding, canopied walking paths at nearby Fairchild Tropical Botanical Garden.
Hobie Island Beach Park
Sometimes good things come in small packages. That's the case for tiny Hobie Island Beach Park, wedged between the Rickenback Causeway and Biscayne Bay. And there's good news for dog lovers: This stretch is a designated dog park where your pooch can run free or splash around.
Though the water is shallow, rocks and mangroves can make it tough for swimming and wading. However, Miami Watersports can hook you up with the gear you need for stand-up paddle boarding, kayaking or sailing hobie cats.
Head to the north side of the park for sensational skyline views, or wander over to Whiskey Joe's for happy hour drinks in a waterfront setting.
Bill Baggs Cape Florida Beach Park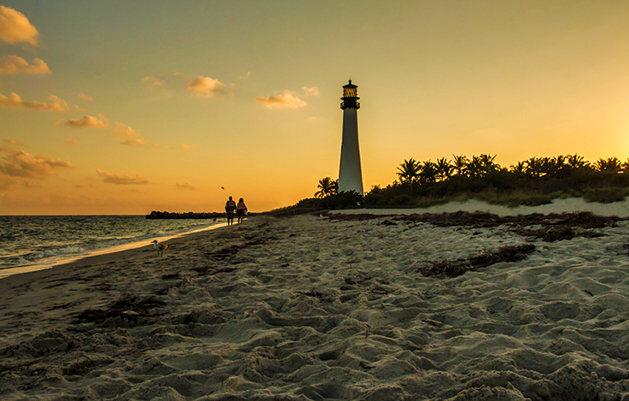 The very antithesis of South Beach's party-hard personality, Bill Baggs Cape Florida Beach Park on Key Biscayne offers everything you need for a relaxing beach day. In addition to a beautiful mile-long stretch of Atlantic coastline, the park is home to two cafes (Boater's Grill Restaurant and Lighthouse Cafe), a harbor and a hiking trail. Active types can rent bikes; beach bums can rent chairs and umbrellas.
Don't miss a guided tour of the Cape Florida Lighthouse, built in 1825 and reconstructed in 1846. You'll get magnificent ocean views and the chance to snap a selfie in the county's oldest standing structure.
The park's entrance fee is $8 per vehicle.
---
Excited to explore beaches near Miami? See vacation deals in the Miami area.