What's the best way to show your mother you appreciate her and all she's done for you? A last-minute getaway to Miami Beach would certainly be a start.
With its tropical climate, palm-lined streets and miles of ocean access, Florida's most flashy city is the ideal playground for active types and beach lovers. But for those who truly want to splurge, Miami Beach also boasts plenty of high-end spas, shopping and restaurants to make sure Mom is sufficiently spoiled and relaxed on her special day.
Here are some suggestions for making her Mother's Day in Miami Beach one to remember.
Relaxing Spa Sessions
Once you see the sumptuous mineral pool and the rain tunnel at Lapis Spa in the Fontainebleau, you won't be able to get the image out of your mind. The spa offers an "Inner Balance" restorative treatment, complete with a facial massage with Lapis Lazuli crystal for $155 (50 minutes).
The spa at the Ritz-Carlton South Beach is ready to treat moms with its "Rhythm Massage," a treatment accompanied by soothing, Latin-inspired music — cost is $115 for 50 minutes.
For the ultimate splurge, book the Banya Detox Ritual at the Standard Spa, which starts with a detoxifying bath soak with a unique blend of Siberian ginseng, birch and green tea, followed by a toning wrap and a massage, for $395.
Decadent Brunches
At the weekly Jazz brunch offered at Jaya, the Asian-style culinary experience at the Setai, guests chow down on seafood, rotisserie items and Indian and Asian cuisine ($85 per adult).
Chef Myles Chefetz' Prime Fish, with its garden terrace and raw bar, would be a top pick for seafood lovers. Over at the Driftwood Room, Top Chef Alex Guarnaschelli cooks up Southern French cuisine, with a bit of Floridian flavor.
Stop by Yardbird Southern Table & Bar for farm-to-table Southern comfort favorites, such as the "Chicken 'n' Watermelon 'n' Waffles" dish.
Shopping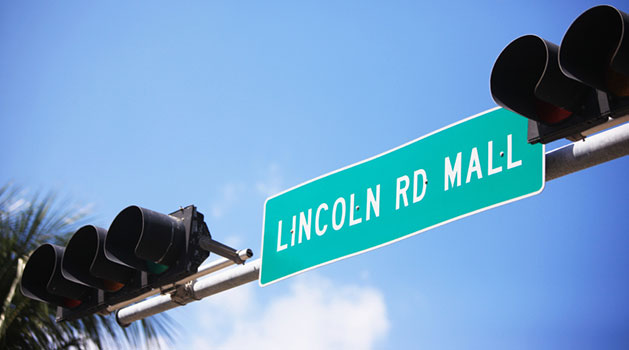 The promenade-style Lincoln Road Mall, located just a few blocks from Ocean Drive and the beachfront, is packed with retail and specialty stores, and a few upscale storefronts like Armani, Banana Republic and Guess. Cafes, restaurants and bars line the streets, and some offer patio seating so guests can soak in every little bit of sun.
The CocoWalk, located a bit south of Miami Beach in the Coconut Grove neighborhood of Miami, offers yet another open-air shopping experience. Its charming Spanish-style plaza beckons shopaholics, and outdoor café seating and a movie theater can keep shoppers there for hours on end.
And of course, there's plenty of perusing to be done at the stores on Ocean Drive and Collins Avenue, which range from high-end boutiques to simple souvenir shops.
Fun in the Sun
You don't have to be outdoorsy to love the outdoors in Miami Beach. A simple walk along the beachfront, a wide, sandy expanse that meets with deep blue waters, will have any mom feeling superb.
Active types can take advantage of free yoga classes offered by the One Yoga Foundation at South Pointe Park in South Beach, and by Third Street Beach Yoga at the lifeguard stand at Third Street off of Ocean Drive.
A bike tour of the city is a carefree and economical way to see the sites. Stop by a Citi Bike station (operated by DecoBike) and try out the city's official bike sharing and rental system.
It's a bit under the radar, but the 2.6-acre Miami Beach Botanical Garden impresses those who love flowers, gardening or beautiful outdoor spaces. A free, self-guided tour is offered to take visitors through 13 stopping points that discuss the plants and the area's natural history. Hours are 9 a.m. to 5 p.m., Tuesday through Sunday.
Miami Beach Deals
Thinking of treating your mom to Mother's Day in Miami Beach? We've rounded up a few Miami Beach airfare and package deals available for the next few weeks:
1. $71+ Miami Slashed Fares: Roundtrip fares from many U.S. gateways - starting rate from Atlanta. Deal expires May 12, 2016.
2.$171+ South Beach 4-Star Hotel: Low rates available the weekend of Mother's Day at the 4-star Washington Park Hotel, not far from the Art Deco Welcome Center and Lummus Park. Bonus: Free breakfast and WiFi. Deal expires May 20, 2016.
3. $411+ Miami Beach Package: Airfare + 3 nights at the Pelican Hotel on Ocean Drive. Bonus: Free breakfast and WiFi; free drinks during happy hour. Deal expires May 9, 2016.
4. $262+ Miami Beach Value Vacation: Airfare + 3 nights at the Beach Paradise Hotel, a boutique property right across from the beach. Deal expires May 10, 2016.
---