It's no secret: Myrtle Beach is crawling with kids. They dominate the pools, they swarm the beaches and they overwhelm with their boundless energy for all things fun.
Even if you love little ones, you have to admit that sometimes vacations are simply better without them. But is Myrtle Beach the right place for an adults-only jaunt?
Thanks to a bourgeoning craft beer and cocktail movement, a new focus on comedy and adult theater, and a few breathtaking luxury properties, the Grand Strand has never been more ready to host the 21-and-up crowd.
What To Do
Though a spin on a giant Ferris wheel might seem a little juvenile, the SkyWheel, open since 2011, provides a different kind of experience than that of some rickety carnival ride. Each gondola is fully enclosed in glass, allowing breathtaking panoramic views, with air conditioning to boot.
The 8- to 10-minute ride is smooth and relaxing, a serene lift above the bustle of Ocean Boulevard and the South Carolina coastline.
Tickets are $12, or $50 for VIP passes, which include double the time in a gondola with leather seats and glass floors – not to mention a host of other perks like ice water and a souvenir bag.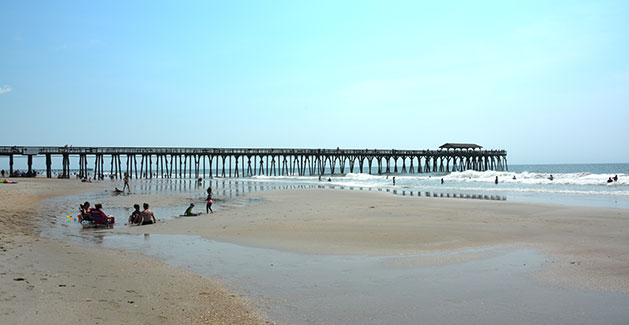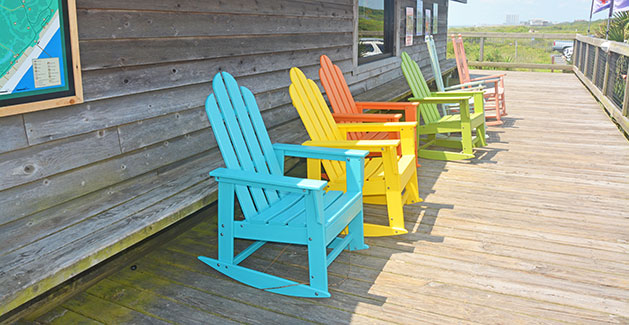 If crowded beaches don't appeal to you, you have some driving to do. Myrtle Beach State Park is located just off of Kings Highway a few miles southwest of the resort town's activity epicenter, protected from its frenetic pace by rolling sand dunes, sculptured oak trees, an otherworldly maritime forest and those distinctively salty breezes.
Besides its vast beach and lengthy fishing pier, the park offers a 300-site wooded camping space, seven gazebos, hiking trails, a nature center and beachfront boardwalks.
Six historical cabins still stand, sequestered in their own quiet spots, and are available to rent – but there is a 13-month reservation window, so plan ahead. Admission to the park is $5 for adults.
Huntington Beach State Park, even further southwest near Murrells Inlet, offers many of the same amenities, but with one outstanding addition: Atalaya Castle, the former winter residence of industrialist and philanthropist Archer M. Huntington and his wife Anna Hyatt Huntington, a sculptor.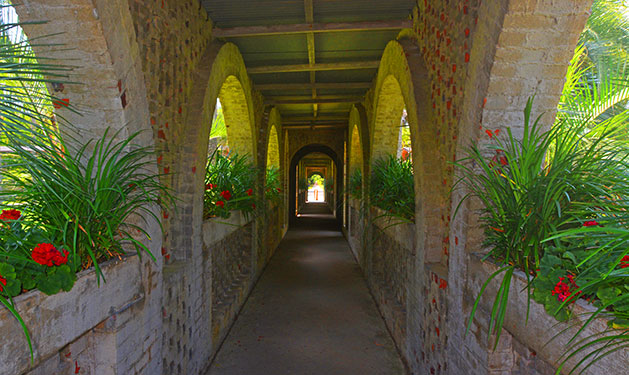 Tour the gardens and the narrow hallways of the stately structure, built in the 1930s in Moorish Revival and Mediterranean Revival architecture styles, and get a sense of this power couple's easy and luxurious way of life.
Admission to the park is $5 for adults, with an extra $2 fee to tour Atalaya.
Cruise South Carolina's stretch of the Intracoastal Waterway onboard the Barefoot Princess Riverboat, complete with both enclosed and outdoor decks, a full Southern-style buffet dinner, live music and a cash bar.
The scenery is exceptional, and with the vessel's leisurely glide, there's little chance of getting motion sick. Dinner cruises depart at 5 or 6 p.m. depending on the day, and are a steal at $42.
Just a mile from the airport, the intimate GTS Theatre is a gathering point for the mature crowd, thanks to its Wild 4 Hypnosis Comedy Show and its late-night variety and burlesque show. GTS, which stands for "Got the Shows," calls itself the "little theatre with the biggest voices," and prides itself on its interaction between cast and audience.
Tickets for the comedy show will run you $18. There's no bar or alcohol allowed on-site, so booze up before you show up.
Where to Eat and Drink
After a stroll along the Myrtle Beach Boardwalk, pop into Art Burger Sushi Bar, a shotgun-style restaurant where liquid nitrogen mist (created when bartenders mix their signature cocktails) cools diners as they enter.
The menu is straightforward but innovative: succulent burgers made from hormone- and antibiotic-free, grass-fed beef on one side of the menu, and sushi (nigiri, sashimi, maki and a list of specialty rolls) on the other. A few vegan and vegetarian items grace the menu too – the Sargent Burger and Falafel Burger, for example.
Executive chef and general manager Daniel Becker recommends the omasake, a roll designed exclusively for diners by the sushi chef himself. Finish off with a liquid nitrogen cocktail, flash frozen and whipped into a yogurt-like consistency. But beware: these drinks hit hard.
For lunch or dinner even closer to the SkyWheel, check out The Chemist, whose futuristic, mad-scientist theme is not out of place in this whimsical part of town. Start out with tempura veggies, or the thick and creamy tomato bisque, which comes with a grilled cheese sandwich on the side.
Move on to entrée items like the shepherd's pie or the bacon cheeseburger, but whatever you do, don't pass up the drinks. The not-too-sweet Periodically Peach Martini is their most popular, but the Bourbon Flask, with muddled Luxardo cherries, certainly holds it own.
Executive chef John Tapper II has put blood, sweat and tears (figuratively) into the menu at Thoroughbred's Chophouse and Seafood Grille, which might be the swankiest place in town to enjoy a tender steak or some fresh seafood.
Lights are dim and corner booths are cozy — this is more the martini crowd than the beer crowd. For appetizers, take a chance on the juicy fried green tomatoes or the seasonal watermelon salad.
For dessert, the Grand Marnier crème brulee is infused with orange zest and topped with whipped cream and strawberries, and is every bit as hedonistic as it sounds. To rev up your appetite in advance of dinner, take a look Tapper's personal blog, where he posts tantalizing photos of new creations.
Not far from Thoroughbred's is Duplin Winery, a giant barn-like shop offering wine tastings and housing specialty food items, souvenirs and clothing in a market-style layout.
As day eases into night, enjoy one of the winery's famous Muscadine wines out on the patio, complete with twinkling lights and live music. The winery is open Monday-Saturday, 11 a.m. to 8 p.m.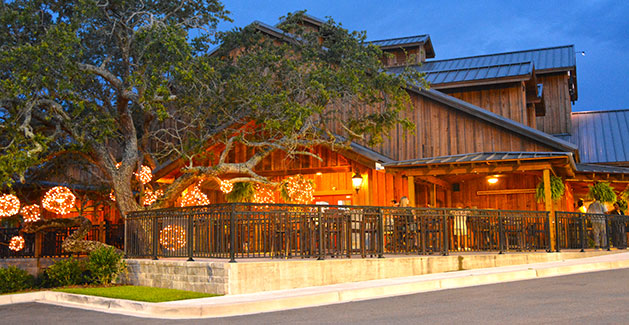 Hide out from the kids running amok on Ocean Boulevard by ducking into Atlas Tap House, serving up a wide variety of craft beers, not to mention a seriously respectable list of bourbons, martinis and craft cocktails.
"They never let me down," says local Chuck Knox, who visits Atlas frequently. "I love the beers. I love the atmosphere."
Try the Westbrook Petite Saison Mandarina to get a taste of the local brew (Westbrook Brewing Company is located outside of Charleston), and snack on some fried and gooey mac and cheese bites dipped in sweet mustard sauce. The back patio offers mini golf, picnic tables, a big screen for movies and giant-sized Jenga.
Where to Stay
The 4-star Anderson Ocean Club and Spa's swoon-worthy indoor pool is one reason to book a few nights at this condo resort, and the Moroccan- and Spanish-style architecture, on-site Awakening Spa and the poolside B Bar are icing on the cake. Magnolia's, serving breakfast, lunch and dinner, is right across the street. Nightly rates drop as low as $172 in September and October.
The all-suite Island Vista resort, unlike many in Myrtle Beach, is not competing with other oceanfront properties and guests vying for space on the beach. It's the only oceanfront hotel within a several-mile stretch along Ocean Boulevard, giving it an exclusive, secluded feel. Suites feature private oceanfront balconies and complimentary Wi-Fi, and you can relax at one of three swimming pools or one of two hot tub spas. Two-bedrooms suites start at $199 per night.
---
Ready to explore Myrtle Beach without kids? Browse our Myrtle Beach deals, or sign up for our daily email.