Sometimes you have to hit the pause button. Maybe you lost your job, are recently divorced, or just need to goof off for a bit until you decide what your next move will be. There's nothing like the solace of the sun and surf to soothe your weary soul. A beach retreat can energize and bring back the equilibrium.
When you're ready to give yourself what you so desperately need, here are our suggestions for the best beaches for a sabbatical.
1. Deep Water Cay, Grand Bahama
There's something to be said for getting away from it all. Located in the Bahamas, Deep Water Cay is a private island resort accessible only by boat. The crystal-clear water, white sand, and peace and quiet are sure to calm you. However, you won't be like Tom Hanks in Cast Away—there are enough people around to have plenty of fun too.
Stay for a while in a cottage or rent a home at the resort. Spend your days scuba diving in the coral reefs and mysterious "blue holes." The area is perfect for leisurely hours of snorkeling, kayaking, boat tours, paddle boarding, bicycling, tennis, or simply soaking up the sun in the infinity pool or on the two-mile stretch of beach.
You'll never miss your home cooking. At The Lodge, the resort's main restaurant, the food is four-star fabulous.
2. Tenerife, Canary Islands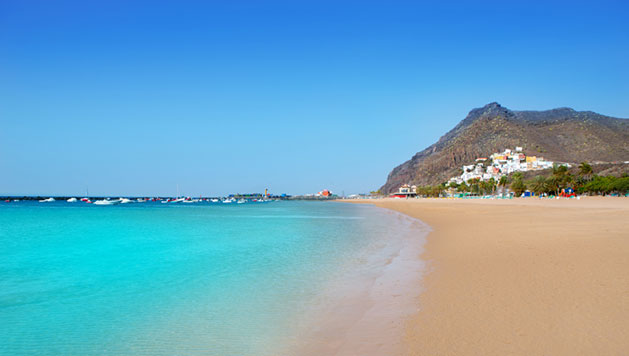 Tenerife is the largest of Spain's seven Canary Islands, located off West Africa. It's home to several beaches where you'll find white, golden, red and volcanic sand.
Since you'll be hanging out for a while, you'll want to know about the urban coves of shops, bars and restaurants, not to mention chilled out cafes and grocery stores. Golfers are in heaven, as Tenerife is home to eight golf courses. The Teide volcano in the Teide National Park is the third highest volcano in the world. If you dare, give it a climb.
There are an array of apartments and hotels to serve as your home away from home. You can find B&Bs starting at $45 per night, budget hotels for $25 per night, and 2-3 star TripAdvisor hotels for $59 per night, as well as 4.5- and 5-star resorts and villas in a wide price range.
3. Benguerra Island, Mozambique
You've likely never seen nothing like Azura, a well stranded resort on Benguerra Island in the marine national park of Mozambique's Bazaruto Archipelago. This resort is made up of just 16 private beachfront villas.
Forget about doing anything for yourself—the resort's butlers will take care of it for you. Tailored activities such as private island picnics and diving will keep you busy. Go on and have this fantasy island adventure. It will cost a pretty penny, but hey, you deserve it!
4. Flamenco Beach, Culebra, Puerto Rico
Culebra is a small island about 20 miles off the east coast of mainland Puerto Rico. You can reach it by ferry for $5, or by airplane, which will run you $80 roundtrip.
Once you get there, you might never want to leave. Culebra often makes the list of top beaches in the world. Yet, the crowds won't drive you crazy.
Camp on the beach, or stay at nearby B&Bs or villas. Restaurants are plentiful, but to truly eat like a local, check out the famous kiosks, serving up a variety of informal dishes. Fish, dive, swim, take a nature tour, lounge in a chair reading a book, or explore the area's other beaches.
5. Puerto Vallarta, Mexico
You've likely heard of this beach town, located on Mexico's west coast between Banderas Bay and the Sierra Madre Mountain range.
If you'll get your groove back with adventure, head to the nearby Marietas Islands and discover the mysterious "hidden beach," which lies beneath a gaping hole in the earth. Then enjoy a snorkel session in the Pacific.
For the first-class pampering you're in the mood for, there's the CasaMagna Marriott Puerto Vallarta Resort & Spa. Their Ohtli Spa should do the trick.
Popular haunts for travelers and locals alike include the Marina Vallarta during the day, and Zona Romantica downtown. Don't miss The Coffee Cup, a favorite breakfast joint.
The Marriott's Champions bar is swimming with American and Canadian expats on Sundays and Mondays during football and hockey games.
This bustling town is welcoming and a great mix of native Mexicans and travelers who loved it so much that they stayed. You might be tempted to do the same.
6. Folly Beach, South Carolina
Just 20 minutes outside of Charleston lies the laid-back surfer town of Folly Beach. Here's how to make the most of it: Paddle-board through Folly's estuaries, tour the Morris Island lighthouse, watch dolphins or go fishing. You can even bird watch on the Folly Beach Pier, the second longest on the East Coast.
For entertainment, enjoy the music festivals and live music at beach bars and restaurants.
House rentals are plentiful, making it easy for you to extend your stay for as long as you'd like.
7. Paradise Beach, Nevis
Nevis is St. Kitt's quieter cousin and perfect for relaxing. The Paradise Beach Nevis, the island's only beachfront villa resort, has just seven villas, a slew of private pools, and even private butlers and chefs.
The resort's beach bar is made of 2,000 Heineken bottles and only seats eight, but that's not including the other guests—the African vervet monkeys and goats.
If you want to forget your worries by taking to the water, swim the 2-mile channel to St. Kitts. Otherwise, there's sunset yoga, horseback riding and just about every other outdoor activity.
Reportedly, Princess Diana visited Nevis following her breakup with Prince Charles. Hey, shouldn't it work for you too?
8. Emerald Coast, Florida
Take your pick—you won't go wrong any where on the 26-mile stretch of sand called the Emerald Coast. The Florida Panhandle is a perfect place to regroup.
This region is home to 16 beach communities along the Gulf of Mexico.
If you're looking to stay for a week or two, The Pearl Hotel is an intimate, boutique hotel with an adults-only pool and rooftop lounge. Another option is the WaterColor Inn & Resort, where Gulf views enchant from every room.
If you're feeling like it may take more than a couple of weeks to recharge, one of St. Joe Club & Resort's hundreds of vacation rental homes is likely what you're looking for. Many are steps from the Gulf.
Guests have access to complimentary bike rentals, private access golf courses, members-only beach clubs, and kayak, canoe and stand-up paddle-board rentals, not to mention other perks.
---
When you're ready for your own beach sabbatical, browse our flight, package, cruise and hotel deals.