Visions of beach bliss dominating your every thought? Don't let a restrictive budget stand in your way. Though it may seem too good to be true, affordable vacations for two travelers do exist — if you head to nearby shores and keep travel and accommodations costs low. Between taking advantage of sales from budget airlines to hopping in the car and road-tripping it, a perfect beach getaway can indeed be had on minimal funds.
See our sample itineraries below to get the planning juices flowing. (Note that these itineraries don't include additional airline fees, resort fees, taxes or food/activities costs, and that some rate estimates may fluctuate over time.)
East Coast cities have a major advantage over their Midwestern and Southern counterparts when it comes to beach access. New York, Boston and Philadelphia are just a stone's throw from a coastline spanning hundreds of miles, which includes hot spots like the Hamptons, Atlantic City, Cape May and Ocean City. But for a true change of scenery, head down to Myrtle Beach, South Carolina, home to palm trees, lowcountry cuisine and 60 miles of beaches.
Accommodations in this all-American beach town are surprisingly affordable, thanks in part to an abundance of rooms and fierce competition from neighboring oceanfront resorts to bring in guests. Plan to go just outside of the busy summer season — think September and October, still warm and sunny — to snag the best hotel deals.
Sample itinerary
Roundtrip airfare for two, New York City to Myrtle Beach = $129
3 nights at Compass Cove Resort at $74/night = $222
Total = $351
Midwest Cities to Chicago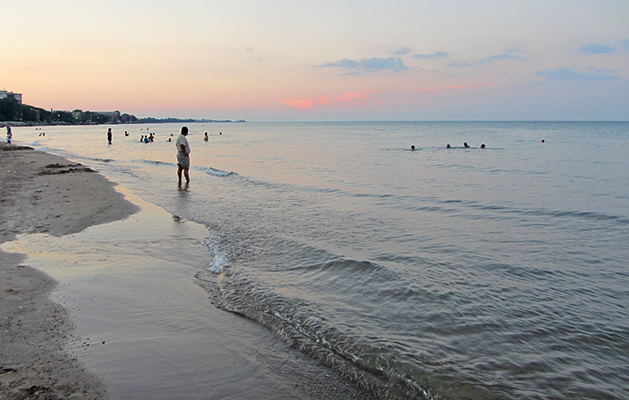 Chicago's reputation as a sophisticated big city often overshadows its beach offerings, but let us be clear: Lake Michigan's splendor and accessibility rival that of any ocean.
Summers are action-packed along the lakefront, especially at perennial hangouts like North Avenue Beach and Oak Street Beach, both offering soft, golden sands and awe-inspiring skyscraper views. Quieter beaches lie to the far north at the city's outskirts, where urban views give way to endless horizons and family-friendly vibes.
For travelers living in the Midwest, it's often more cost-effective to drive to Chicago than to fly. And though downtown hotels (especially those near the most popular beaches) are exorbitantly priced during the summer months, excellent rates can be found at alternative accommodations such as bed and breakfasts or vacation rentals.
The Wicker Park Inn in the trendy neighborhood of the same name puts you within walking distance of dozens of eateries and Bohemian watering holes. And it's a short walk up to North Ave, where you can catch a bus straight to the lakefront.
Sample itinerary
Roundtrip gas costs, Indianapolis to Chicago = $40
2 nights at the Wicker Park Inn at $209/night = $418
Total = $433
West Coast to San Diego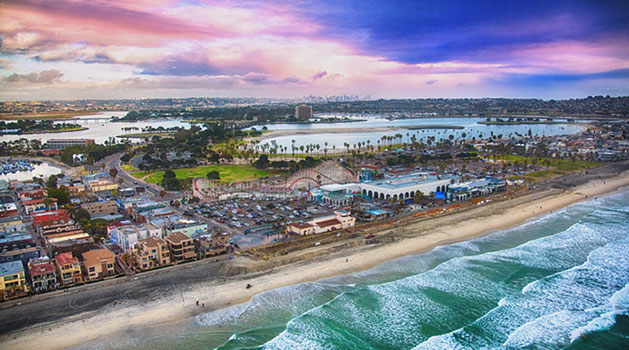 That life is a little more laid-back in San Diego is no secret to West Coast dwellers, who flock to its shores to enjoy pleasant year-round temperatures and as many as 146 sunny days per year. Besides being home to dynamic historical sectors such as the Gaslamp Quarter and huge draws such as the San Diego Zoo and Balboa Park, this city is also a haven for surfers, foodies and craft beer connoisseurs.
Like many beach towns, prices surge during high season — summer, in this case. Wait until fall to take advantage of huge discounts on room rates, or go during the winter months to get rock-bottom prices. Our search for March dates turned up a nice selection of hotels under the $100 per night price point.
Sample itinerary
Roundtrip airfare for two, Seattle to San Diego = $178
2 nights at Heritage Inn San Diego in standard queen room (off-season rates) at $70/night = $140
Total = $318
Southern States to Miami Beach
Florida is home to a dizzying list of beach towns, including Gulf Coast beauties, Panhandle hidden gems, and old Florida stunners near the Space Coast. But if a strict budget drives your quest for vacation deals, look no further than the white-sand shores of Miami Beach, easily reachable through a short flight from southern cities. Nashville, Atlanta, Charleston and Jacksonville all offer direct flights to the Magic City, meaning you can find yourself in America's foremost Latin-inspired beach town in just a few hours.
Luxury hotels lining famous Miami Beach aren't always known for being budget-friendly. Commit to staying a few blocks from the action and you'll find better rates. We recommend the El Paseo Hotel, a Spanish-inspired boutique property at the edge of Española Way, a pedestrian thoroughfare dotted with romantic candle-lit patios.
Sample itinerary
Roundtrip airfare for two, Atlanta to Miami = $250
2 nights at El Paseo Hotel at $139/night = $278
Total = $528
---
Want to put together your own cheap vacation for two? Shop now for flights, hotels, and car rentals.