Ocean Drive. Art Deco hotels. Glitzy nightclubs and fine dining. That endless stretch of white-sand beach and ever-warm waters. It's hardly puzzling why 14 million visitors made their way to the Miami area in 2014. And if there's any spot that draws them the most, it's South Beach.
The city of Miami Beach is located just east of Miami's downtown on a barrier island between the Atlantic Ocean and Biscayne Bay. Its most well-known neighborhood, South Beach, has gone through several transformations over the years.
Though it may be hard to believe looking at it these days, South Beach was nothing more than a coconut farm in the late 1800s, with development sluggish until the turn of the century.
The iconic candy-colored Art Deco hotels that line Ocean Drive popped up in the 1930s, and survived the neighborhood's tougher years with the help of conservationists. Hundreds of these gems are still standing. Walking tours depart from the Art Deco Welcome Center every day at 10:30 a.m.
(All photos and video by Theresa Boehl)
South Beach was by no means glittery and glamorous in the 80s, when drugs and economic hardship left the area sketchy and blight-ridden.
Thanks to an influx of millionaires, movie stars and beach enthusiasts, South Beach today couldn't be more cosmopolitan, and walking down the palm-lined streets, you're sure to hear languages from far-off places.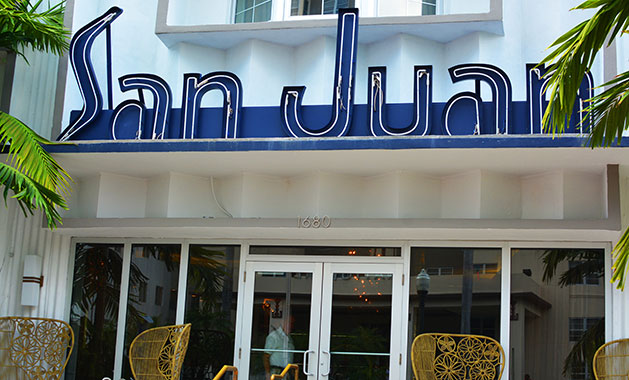 Any trip to South Beach should begin with a stroll down lively Ocean Drive. The boutique hotels lining this thoroughfare are as bright and magical as a carnival at night, and crowds file down the streets past dining patios offering two-for-one drink specials.
The party goes late here, just as it does on Collins Avenue, the street directly behind it, where you'll find some of the larger luxury hotels and a smattering of restaurants and bars.
The breathtaking Loews Miami Beach (1601 Collins Ave.) offers all the amenities you'd expect from a 5-star hotel — a luxe outdoor pool surrounded by palm trees, a full-service spa, and restaurants like Lure Fishbar, Preston's Market and the Rum Line, all of which have garnered 4 stars from TripAdvisor reviewers.
Mango's Tropical Café (900 Ocean Drive) is a high-energy spot with Latin music and dancing. Its tropical décor and scantily clad dancers embody the spirit of South Beach. Mango's is a tourist trap for sure, but worth a see.
South Beach offers more low-key spots, too. Head to under-the-radar Española Way, a pedestrian-friendly stretch of cafes and restaurants, where the atmosphere is more romantic than rowdy. Havana 1957 (405 Española Way), with its Havana-inspired memorabilia and menu of classic Cuban fare, might be one of the most beloved spots on this stretch.
Those who love to dine al fresco will be in luck; most restaurants here offer the chance to people-watch and enjoy the warm evenings while you dine.
Spending some time at the beach is an absolute must. In December and January, when most of the country is frozen over, South Beach's sand is warm and inviting, the water as blue as ever.
It's not exactly a quiet place to unwind — the beachfront never clears of sunbathers and hungover partygoers. The vibe, however, is irresistibly fun, and the brightly painted lifeguard towers add a pop of color to the landscape.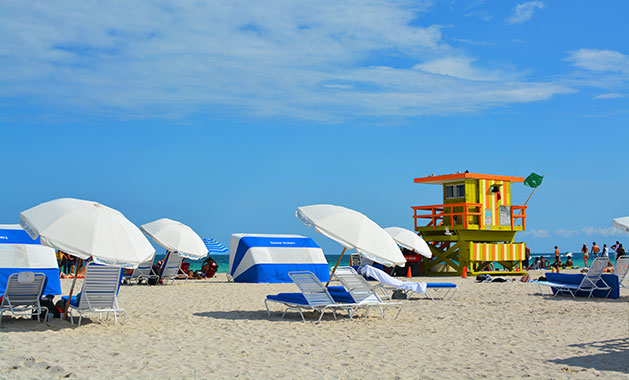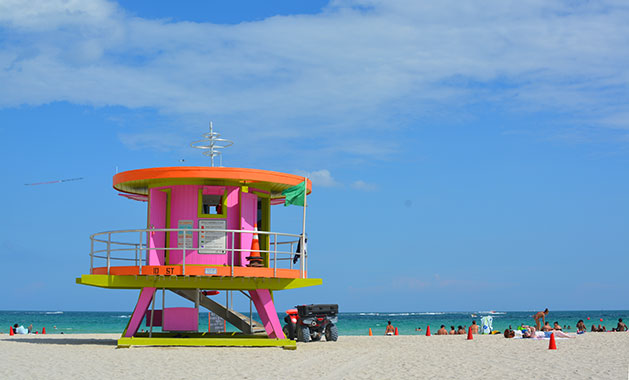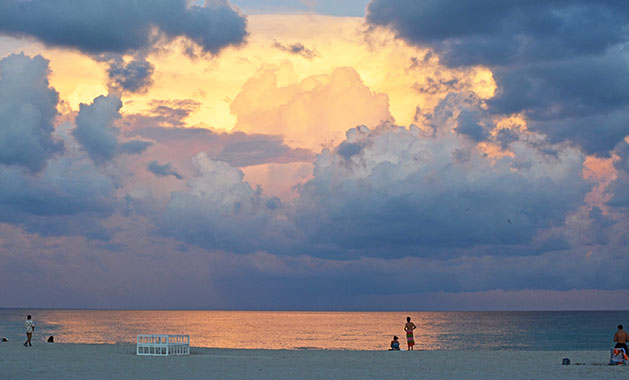 The beach is far enough removed from the action on Ocean Drive that when the sun sets, it's actually quite peaceful. Take a breath and decompress now, before another long night on the town begins.
---
Want to explore South Beach for yourself? Browse our travel deals to Miami.