Family beach vacations call for a certain hard-to-find balance — they should be rejuvenating for adults, but fun and engaging for kids at the same time. Not always an easy combination, we realize.
Below, we highlight perennial winners both for grown-ups and for kids with endless curiosity and energy to burn. And the best part? You won't even need to pack your passport for these American beach escapes.
Ready to shop? See deals to top beach destinations in the U.S. now!
Myrtle Beach, South Carolina

Put Myrtle Beach high on your family beach vacation list. Besides 30 miles of coastline and two spacious beachfront state parks (Myrtle Beach State Park and Huntington Beach State Park), the town is bursting with family-friendly amenities and activities: everything from ziplining and adventure golf to water parks and dinner theater. Plus, most beachfront hotels offer a dizzying list of on-site amenities. It's standard for resorts to have at least one swimming pool, and most offer lazy rivers, indoor pools and on-site dining to boot.
The Landmark Resort, for example, boasts a water park, a video arcade, mini golf, two lazy rivers and multiple indoor and outdoor pools, plus a poolside snack bar, a bar and grill and a cafe serving Starbucks coffee.
Daytona Beach, Florida

Still see flashes of NASCAR races and spring break revelry when you think of Daytona Beach? Maybe you're out of the loop — Daytona shed its rowdy party vibes and has been reimagined as a destination for the whole family.
After a dip in the Atlantic and a stroll along the boardwalk, sprinkled with amusements, sweet shops and gift shops, head to the Daytona Lagoon water park, where water slides, an arcade, a lazy river and laser tag await. Kids will wander wide-eyed through the Museum of Arts & Sciences, especially in the Children's Museum wing, home to interactive exhibits such as a tennis ball launcher and a build-your-own-vehicle section.
Bonus: Daytona Beach is just an hour and a half from Walt Disney World Resort.
Virginia Beach, Virginia

Virginia has marketed itself as a place for lovers, but that doesn't mean families won't enjoy this nature-lover's paradise. Take in those refreshing salty breezes on the boardwalk, stretching three miles and serving as an anchor for numerous hotels, restaurants and vendors.
After snapping some photos with the famous bronze King Neptune statue, an area landmark, head to Creamwiched for your favorite ice cream flavor sandwiched between the baked good of your choice — everything from cookies and brownies to waffles and croissants.
Then let the kids burn off some energy at the Virginia Aquarium and Marine Science Center, home to more than 10,000 animals, including loggerhead sea turtles, harbor seals and sand tiger sharks.
Coney Island, Brooklyn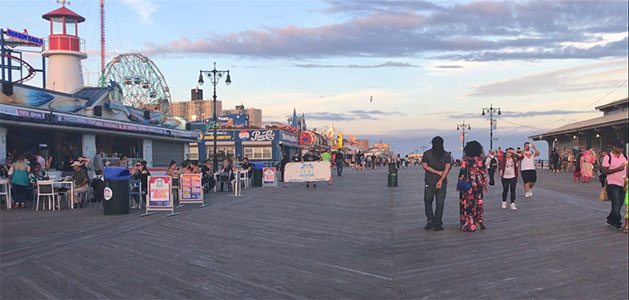 Though the Big Apple is one of America's most modern cities, you and your family can transport back to the early 1900s at Coney Island, Brooklyn's classic beach and amusement gem that has been attracting families nonstop since it was first developed as a resort area.
Luna Park, with dozens of rides and games competing for space in its beachfront lot, takes its name from the original Luna Park that existed from 1903 to 1944 in a nearby space. Its most famous ride is the Cyclone wooden roller coaster, a New York City landmark on the National Register of Historic Places, which has been thrilling riders since 1927.
For epic views of the coastline, high-rise urban dwellings and towering thrill rides, walk out to the very end of the Steeplechase Pier, jutting out over the Atlantic's rolling waves.
Smathers Beach, Key West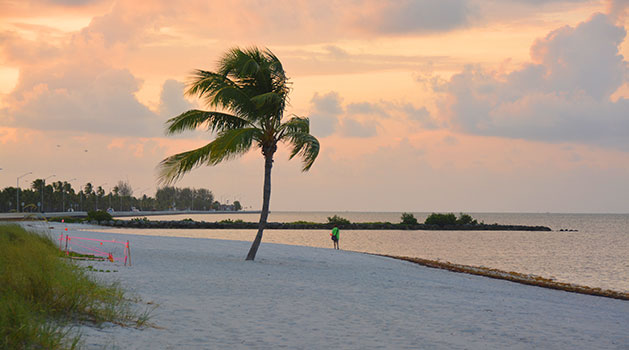 Spirited Duval Street cutting through Key West's Old Town may seem more like an adults-only playground, at least in the late night hours. But morning vibes are nothing if not serene just a few miles away at white-sand Smathers Beach, Key West's best known palm-tree-lined oasis. Come early and you'll be joined only by a few morning joggers and hardcore kayakers.
Just a few miles west is the Key West Butterfly and Nature Conservancy, a mini tropical paradise with birds, waterfalls and flowers in a climate-controlled habitat. Kids will get a kick out of the six-toed cats at the Ernest Hemingway Home and Museum, and family selfies at the Southernmost Point Buoy are a must.
Snorkeling tours are available from many operators doing business near the Key West Historic Seaport. Sebago Watersports offers 3.5-hour morning reef snorkel sessions that include all the gear plus soft drinks and filtered water for $27.50 for kids ages 6 to 11 (free for kids 5 and under). A bonus for grown-ups: Complimentary beer and wine is offered after snorkeling.
---
RELATED
>> How to Find Cheap All-Inclusive Family Vacations
>> 5 Awesome All-Inclusive Family Beach Resorts
>> The Best All-Inclusive Resorts for Kids
---
Sign up for the BeachDeals® fare-alerts
Stay current on travel deals from top sites — sign up and start getting deals by email. Can't wait? Shop deals from top sites now.