Are you addicted to the thrill of hunting for your next beach vacation? If so, you have more in common with staff here at BeachDeals than you may realize. We spend many hours every week looking for all-inclusive getaways, family beach trips and luxury packages and posting the best of what we find — thanks to the great selection at our favorite all-inclusive vacation websites.
Read on to learn more about the travel websites we can't live without.
Want to skip ahead to the best deals from these sites and more? Shop vacation packages from top sites now.
CheapCaribbean.com
CheapCaribbean's easy-to-navigate, colorful website hosts one of the best collections of all-inclusive package deals out there on the web. Despite its name, the site includes more than just Caribbean destinations, adding Mexican beach towns like Cancun and Puerto Vallarta in the mix.
Listings show reduced prices alongside their original price tags, so you can see just how much you'll be saving. And not only are properties rated by the company's internal "sun" rating (sort of like a star rating), they're also summed up by real travelers who rate the property on a scale of one to five.
Want to get the cheapest package deals possible? Look for Punta Cana and Cancun specials, and be sure to check on travel dates in the fall — that's when we've seen all-inclusive package deals for as low as $499 per person (departing from Fort Lauderdale).
Orbitz.com
Orbitz has long been a top name in the travel industry, but most associate the online travel agency with hotels and flights only. Did you know they have vacation package offerings too? The best way to see vacation packages from Orbitz is to enter your travel dates and departure city in the search box at the top. You can also browse destinations and properties, displayed further down the page. Sample vacation packages are shown for Cancun, Punta Cana, Riviera Maya, Jamaica, Los Cabos and Puerto Vallarta.
New to all-inclusive vacations? Check out the FAQ at the bottom of the page, which answers questions on what's included and how to choose the best experience based on your tastes.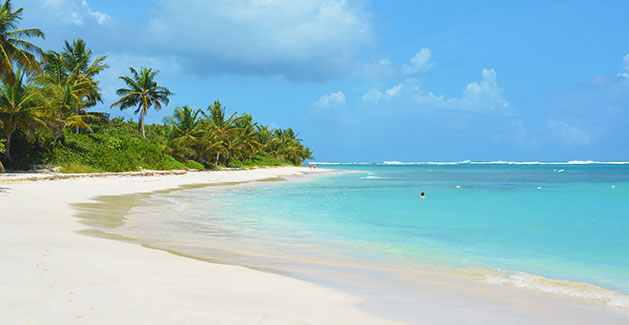 LibertyTravel.com
There's always something new and exciting at Liberty Travel, a reputable name in the world of vacation packages since 1951. Browse their all-inclusive offerings by destination, price point or star ratings. Click on a package you like and right away you'll see what's included in a list on the left. Liberty Travel also offers bonuses such as free kids' stays and resort credits.
Want to learn more about a specific vacation? Fill out the form at the bottom of the deal page or call the number they provide. Want to see rates at a glance? Scroll down to "other departure cities" for more estimated prices from various U.S. cities.
Sunwing.ca
For Canadian beachgoers, airline Sunwing.ca offers a broad selection of vacation packages, some reduced by up to 70%. Most of the lowest-priced vacations are for Cuban beach destinations — Holguin, Manzanillo de Cuba, Camaguey and Cayo Coco, just to name a few.
Since you're booking your trip with the airline, you can expect certain amenities onboard that other vacation package providers don't usually promise, such as free checked baggage up to 23 kg, a welcome glass of sparkling wine, non-alcoholic beverages and in-flight audio/visual entertainment.
Keep in mind that prices are listed in Canadian dollars.
Sign up for the BeachDeals email
Overwhelmed by these all-inclusive vacation websites and the thought of browsing all of them? Skip ahead and shop hand-picked deals on the BeachDeals site. Or sign up for fare alerts to make sure you never miss any awesome flight deals.
---
RELATED
How to Find All-Inclusive Vacation Packages with Airfare Under $500
6 Websites Every Lover of the Caribbean Should Be Visiting