The Islands of Aloha have garnered three of the top 10 spots in TripAdvisor's Travelers' Choice Awards, an annual list compiled from reviews and ratings of hundreds of destinations across the globe.
The list of top destinations in the U.S. also included Las Vegas, San Diego and New Orleans. New York City took the No. 1 spot.
"It's clear in looking at this year's list of Travelers' Choice award-winning destinations that our millions of reviewers across the globe love exploring iconic cities that are full of rich history and culture," said Brooke Ferencsik, senior director of communications for TripAdvisor, in a press release.
So what makes Hawaii such a revered spot year after year? Read on to find out why these Pacific Islands show no signs of slowing down.
Maui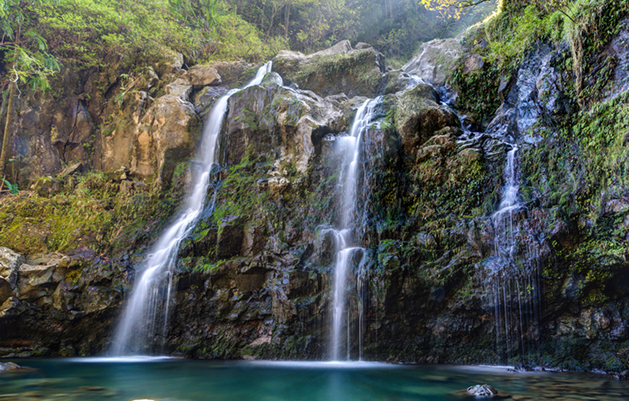 Coming in at No. 2 on TripAdvisor's list, Maui is celebrated for its golden sand beaches, its imposing volcanic peaks and its pristine waterfalls. According to TripAdvisor, the annual average hotel rate in Maui is $484 per night, with October being the cheapest month to visit. Airfares found on TripAdvisor are as low as $396 round-trip from San Francisco.
Our favorite beach on Maui: Kaanapali Beach
A treat for both water sports enthusiasts and nature lovers, Kaanapali Beach is one of Maui's most buzzed-about beaches. It's lined with upscale hotels and residences catering to vacationers, and it features a beachfront path dotted with palm trees that winds along the coast.
Whalers Village, a commercial complex located smack-dab in the middle of the beach, is the best spot to grab a drink or a bite to eat. Don't miss the nightly ritual that takes place at Black Rock, in which cliff divers jump into the water right at sunset.
Oahu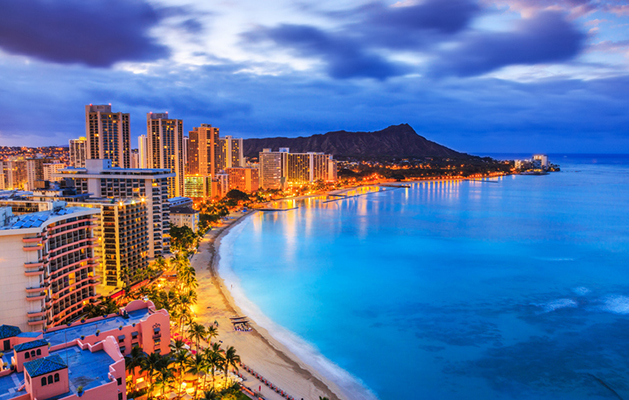 A cosmopolitan oceanfront city, a range of historical sites and the looming Diamond Head peak make Oahu unique among its island neighbors. Listed in the No. 3 slot this year, Oahu is the clear choice for visitors who want access to all the trappings of urban life plus breathtaking scenery and perfect year-round weather. The average annual hotel rate in Oahu is $365 per night and the least expensive month to visit is November, according to TripAdvisor.
Our favorite beach on Oahu: Waikiki Beach
World renowned as a surf destination and a honeymoon spot, Waikiki Beach in Honolulu is a perennial choice for water sports enthusiasts, history connoisseurs, shoppers and foodies.
Honolulu is home to the Waikiki Aquarium, Pearl Harbor and Chinatown, not to mention tons of shops and restaurants along Kalakaua and Kuhio Avenues. It's also the jumping off point for excursions to stunning natural sites, such as Hanauma Bay Nature Preserve, the Makapuu Lookout and the Keaiwa Heiau State Recreation Area.
Island of Hawaii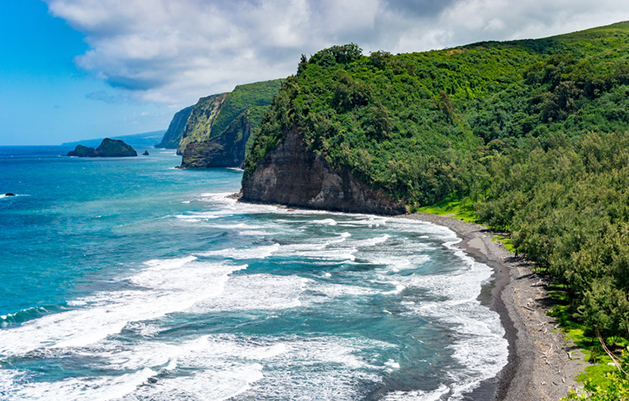 Last but not least, Hawaii's Big Island made the tenth spot in TripAdvisor's list this year. Best known as the site of Hawaii Volcanoes National Park and as the home of beautiful black-sand beaches, the Big Island is the ideal island destination for nature lovers. Find everything from rainforests and waterfalls to rocky cliffs and wooded trails within the island's 11 climate zones.
On average, hotels go for $332 per night, and travelers can save the most by traveling in May, according to TripAdvisor.
Our favorite beach on the Big Island: Punaluu Beach
Aside from silky black sands and sweeping ocean views, Punaluu Beach is home to dense palm tree forests and sea turtles that bask on its shores. Public restrooms and picnic tables allow sunbathers to settle in and stay for a while.
Volcanoes National Park and the quaint town of Naalehu are both easily accessible from here, as is the Kau Forest Preserve.
---
Feeling inspired to get your own vacation started? Search now for flights, hotels, or vacation packages.