Whenever a commercial flashes on TV showing some far-off island paradise, it's tempting to reach for your credit card and book the most extravagant getaway on an impulse. But once the vacation is over, you'll not only be stuck in a post-vacation funk, you'll also have the burden of having to pay back thousands of dollars. Not ideal.
So let us suggest an alternative: Look to domestic coastlines to deliver the family getaway you crave. Here are our ideas for four fabulous vacations under $1000 (including gas and accommodations costs only).
Virginia Beach, Virginia
Surrounded by the cities of Newport News, Norfolk and Chesapeake, Virginia Beach is a summer playground for East Coast families in need of a break. If you're based in a city along the coast, driving there will be a cinch, but even dwellers of cities as far away as Nashville can make it to this coastal haven in a day. Pile the kids in the car and hit the road. When they catch a glimpse of the Virginia Beach Amusement Park or the iconic King Neptune Statue along the beachfront, they'll pardon the long car ride.
In general, hotels in Virginia Beach are on the affordable side, though you'll save a lot of money if you make your escape in the early fall months — that will ensure you can pull off a family vacation under $1000. Rest your head in a superior double room at the Hilton Virginia Beach Oceanfront, which as the name suggests, offers easy access to the beach, as well as splendid coastal views from the balcony. Grab a drink at the 21 story high Sky Bar, or take a dip in the rooftop infinity pool.
Roundtrip driving costs:

From Columbus: $123
Hotel stay:

3 nights in a double room at the Hilton Virginia Beach Oceanfront (weekdays in Sept.), $213 per night = $639
Total = $720 - $791
Panama City Beach, Florida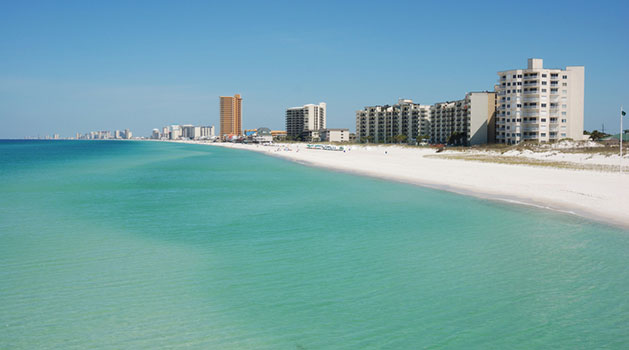 Florida's Panhandle is a treasure chest of white-sand beaches with a coastline draped in the unmistakable emerald hue of the Gulf of Mexico. Boxy high-rises are scattered along the oceanfront in Panama City Beach, where a former party reputation has given way to a more serene, family-friendly standing.
Driving to this up-and-coming beach spot is a no-brainer for many southern city dwellers. Commit to a full day in the car and you can reach bone-white sands and ocean breezes before the sun sets. Look for condo offerings to host your family — we like the Long Beach Resort, with beach access, an outdoor pool and a fitness center.
Roundtrip driving costs:
Hotel stay:
4 nights at the Long Beach Resort, $124 per night = $496
Total = $559 - $603
Saugatuck, Michigan
For Midwesterners, a trip to a tropical beach represents a refreshing change of scenery. But don't overlook the stunning freshwater shores along the coast of Lake Michigan, sometimes called America's Third Coast. Oval Beach is one such lakefront paradise, an oasis not far from the bohemian towns of Saugatuck and Douglas that spring to life in the short-lived summer months. Fill up a cooler with snacks and buckle up: One of the nation's best beaches awaits at the end of your road trip.
Saugatuck is easily accessible from Midwest cities like Chicago and Detroit, but even locals as far west as Des Moines will find the car ride tolerable. The town is replete with mom-and-pop throwback resorts, such as the Starlite Resort, which is not far from Oval Beach. Get a double queen room (sleeps four) to rest your head and store your belongings, but plan to spend the rest of your time sampling ice cream, window shopping and hiking the wooded trails near the lakefront.
Roundtrip driving costs:
Hotel stay:
4 nights in an economy family room at the Starlite Resort, $129 per night = $516
Total = $565 - $606
Galveston, Texas
A small city on a barrier island just an hour and a half from Houston, Galveston is revered by families thanks to attractions like the whimsical, nature-focused Moody Gardens (including a rainforest housed in a pyramid and a 3D theater) and the amusement rides on the Historic Pleasure Pier. Even more outdoor recreation awaits at Galveston Island State Park, home to coastal dunes, wetlands, ponds, and of course, beaches, all ideal for bird-watching, hiking or biking.
Stay at the one-bedroom Galveston Beach Condos, upscale units with fully equipped kitchens and easy access to beaches and attractions.
Roundtrip driving costs:
Hotel stay:

3 nights in a one-bedroom condo at the Galveston Beach Condos (weekdays in September), $110 per night = $440
Total = $499 - $554
---
RELATED
Vacations Under $500 for Two Travelers: Best Budget Options by Region
How to Find Cheap All-Inclusive Family Vacations