A few weeks back, Hurricane Irma's devastating impacts caused tourism in the Florida Keys to grind to a halt. But now, with utilities restored and cleanup efforts ongoing, officials are eager to revive the islands' lifeblood: tourism. The Florida Keys are set to formally reopen to visitors on October 1.
According to Fla-Keys.com, most of the pressing infrastructure repairs have been made, and power and water have been largely restored from Key Largo to Marathon, as well as in Key West, which escaped catastrophic damage. Bridges have also been inspected and given the all clear.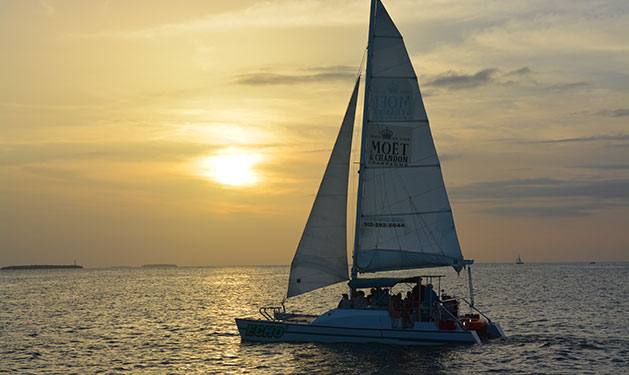 Additionally, the Port of Key West and Key West National Airport have resumed commercial operations. Key Largo's Humphrey Bogart Film Festival will go on as planned from Oct. 8-22, along with Marathon's Stone Crab Eating Contest on Oct. 21 and Key West's Fantasy Fest to be held from Oct. 20-29.
"We know we have a long way to go before the Keys fully recover," said Monroe County Mayor George Neugent. "But because tourism is our top economic engine and many of our residents' livelihoods depend on it, we also know that we need to begin asking visitors to return."
While some businesses are getting back on their feet, not all resorts and restaurants are ready to host visitors, especially in areas that were hit hardest, such as Marathon and other towns in the Lower Keys. Officials encourage travelers to call ahead to hotels and attractions to confirm that they're back to business as usual.
As recovery efforts continue, motorists should drive cautiously, avoid side streets and be careful not to hinder debris removal.
Deals
The Playa Largo Resort & Spa, located in Key Largo, has 14 acres of private beach, three restaurants and a spa. The resort is offering rates as low as $249 per night now through Dec. 24, 2017. Perks include complimentary bicycle rentals and between $100 and $350 in resort credits depending on the length of your stay. Book now through Dec. 24, 2017 using booking code: ZX0 (last character is a zero).
La Concha Hotel & Spa Key West is offering nightly rates starting at $191 through October 20. Pier House Resort & Spa at the northern tip of Duval Street is also offering discounted rates through October 20, starting at $239 per night.
This seven-night Royal Caribbean cruise departs Nov. 19 from Tampa and sails to Key West, Cozumel, Belize City and Costa Maya. Inside cabins start at $499; ocean-view cabins and balcony cabins start at $599 and $1049 respectively. Choose from bonus offers such as guest discounts and up to $200 in hotel certificates.
Sign up for the BeachDeals® email to receive deals in your inbox.
---
RELATED
>> Hotel Highlight: Ibis Bay Beach Resort, Key West
>> 5 Affordable Vacation Spots in Florida