Planning a trip to Myrtle Beach? You're in good company. This 60-mile-long coastal stretch attracts millions every year, from young families on summer vacation to mature couples looking for a serene autumn retreat. And for bargain-seekers, there's good news: It's not hard to find hotel deals in Myrtle Beach, SC, if you know when and where to look. Here's advice from BeachDeals® on how to hook first-rate deals to one of the nation's most beloved beach towns.
>> Shop All Myrtle Beach Deals

Search before or after the summer high season
June through August is the peak time to travel to Myrtle Beach. That's when the weather is warmest and families fill the dozens of high-rise hotels and vacation condos lining the beachfront. Room rates will be significantly lower if you squeeze your vacation in before the summer rush, or wait until early fall, when most vacationers have headed home.
In fact, each year Visit Myrtle Beach runs a "60 More Days of Summer" promotion to highlight the area's extended warm-weather season. It's the ideal time to enjoy cheaper rates, fewer crowds and slightly cooler weather.
Browse and search deals from top sites
In case you're not familiar with what we do here at BeachDeals®, we'll break it down: We offer a selection of featured travel deals, including hand-picked hotel deals in Myrtle Beach, SC, plus a search tool to compare bargains from top booking sites.
That way, you can come to one site to see a curated collection of deals from your favorite hotels and booking sites. And when you settle on one, simply follow the link to the deal site to book. Find your perfect Myrtle Beach deal now.

Consider off-the-beaten-path areas
We don't blame you for wanting a hotel near major tourist areas around the Myrtle Beach Boardwalk, the SkyWheel or the Second Avenue Pier. After all, that's where all the action takes place.
But consider your options in nearby areas, too. Surfside Beach, North Myrtle Beach, Arcadian Shores and Murrells Inlet are all excellent options that offer easy access to tourist areas while providing a quieter beach experience.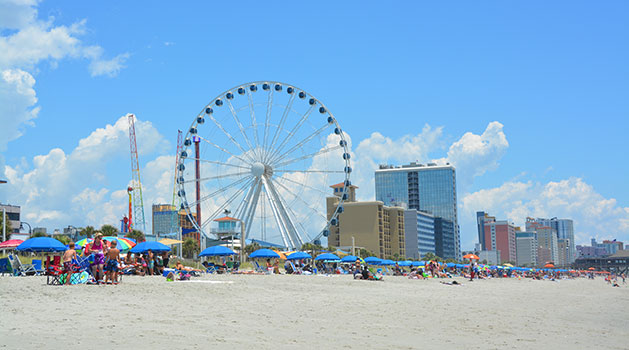 Get the latest deals by email
When we find great hotel deals in Myrtle Beach, SC, we post them on our site right away. Sign up to get deals by email and you'll never miss out. Get the BeachDeals® email now.
RELATED
How to Find Awesome Myrtle Beach Hotels Under $100
5 Super-Fun Myrtle Beach Hotels with Water Parks
A Getaway for Grown-ups: Exploring Myrtle Beach Without Kids
Hotel Highlight: Family-Friendly Landmark Resort in Myrtle Beach
---
Ready to find hotel deals in Myrtle Beach, SC? Shop Myrtle Beach travel deals now, and sign up to get the latest deals by email.