As the end of the year draws near, plans for next year's vacation are probably beginning to take shape in your mind. And as tempting as all-inclusive resorts may be, consider something even more indulgent for your beach vacation: a well-located villa in Barbados, the Dominican Republic, Jamaica, St. Lucia or Aruba, for example. Make one of these upscale Caribbean villas your island home away from home and you'll have the best of both worlds: gorgeous natural surroundings plus posh, private digs with amenities like private chefs, swimming pools and uninterrupted ocean views.
Five-bedroom paradise near Punta Cana, Dominican Republic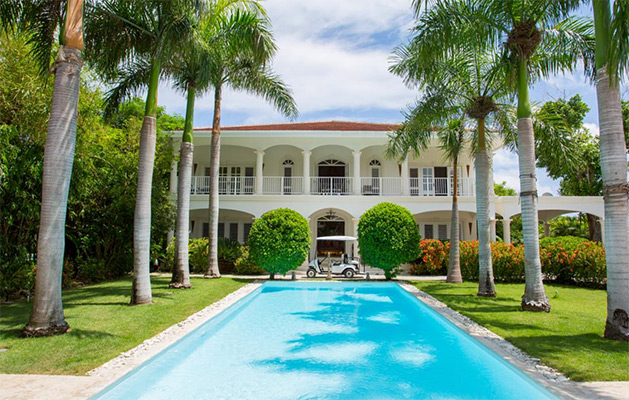 This enchanting five-bedroom villa oozes luxury, in everything from its cream-colored, classical-style façade to its generously appointed master bedroom and bathroom, complete with earthy colors and touches. Invite a few of your closest family members or friends to stay at this upscale property, located about four miles from Juanillo Beach in Punta Cana.
Cool off in the private pool, or lay back with a book and enjoy gentle breezes in the hammock, strung between two royal palm trees. Though you'll be tempted to while away your days blissed out in this villa, be sure to get out and explore the area. Aside from impressive beaches, there's an ecological preserve nearby that features pristine natural lagoons teeming with wildlife.
Learn about other deals in Punta Cana.
Luxe four-bedroom villa in Montego Bay, Jamaica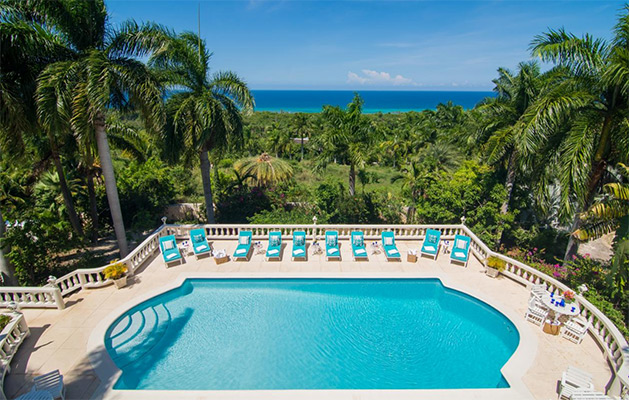 Opulent doesn't begin to describe this four-bedroom luxury villa in Jamaica, aptly named "Endless Summer." The two-story mansion overlooks a lush garden full of pink blooms and a sparkling swimming pool lined with turquoise sun loungers.
Inside, you're met with high ceilings, white columns, tray ceilings and modern furniture at every turn. Enjoy dinner cooked by a personal chef on the second-story balcony, which offers panoramic ocean views. Want to venture to the area's best beaches and attractions? Take advantage of the villa's convenient car rental service.
Later, retire to one of the bedrooms, which keep with the tropical theme and feature four-poster beds and wicker furniture.
Learn more about deals in Montego Bay, Jamaica.
Six-bedroom Villa Hall Estate in Saint Lucia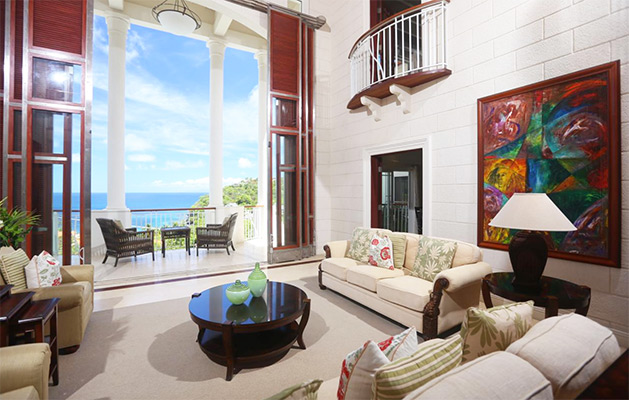 This sensational estate near Gros Islet checks off all the boxes. It has a beautiful outdoor pool and a dramatic façade, plus Caribbean-themed decor and a modern kitchen with recessed lighting and marble countertops.
You'll want to spend hours in the living room, a two-story space with tasteful furnishings and spectacular views of the ocean. Take a seat on the balcony to look out over the swimming pool and the coast. Accommodating up to 12 guests, the bedrooms are simple and comfortable, outfitted with flat-screen TVs.
Learn more about deals in Saint Lucia.
Colorful three-bedroom villa in Aruba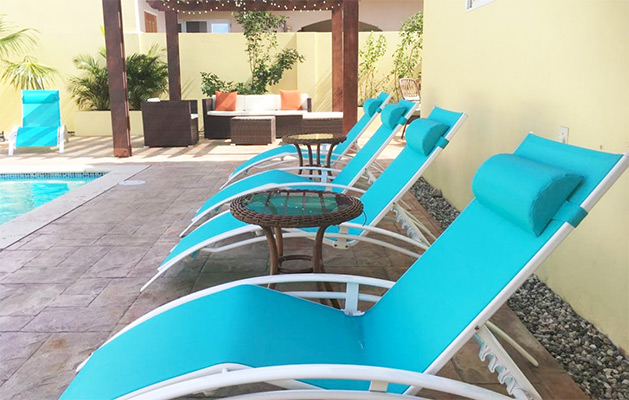 With a radiant yellow façade and a copper-colored roof, this quaint villa is located a 20-minute walk from famous Palm Beach. That means you'll be close to the action, but not so close that you can't enjoy peaceful nights. The property boasts three comfortable bedrooms painted in cheerful colors, and a modern kitchen with neutral colors and a stainless steel refrigerator.
Though the interior is charming, the home's best asset is its saltwater pool lined with sun loungers and tropical plants. Other amenities include free WiFi, perfect for those lazy days of vacation, as well as a barbecue grill, for those who can't resist a good grilled meal.
Learn more about this villa in Aruba.
Two-bedroom upscale villa in Saint James, Barbados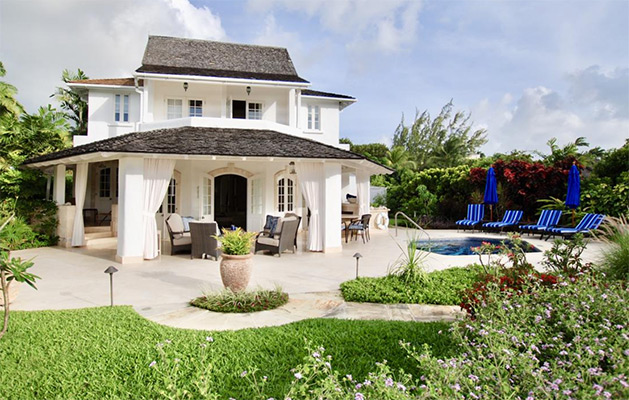 With pristine marble floors and tropical elements throughout, this intimate property is where you go to fully unplug and recharge. Two royal palm trees greet you as you enter through the front door. Inside, both the living room and the adjacent kitchen offer views of the verdant garden outside. On the patio, you'll find a small swimming pool, perfect for a couple or a small group of friends.
Though it may be tempting, don't stay holed up in the house for your entire trip. Saint James Parish boasts beautiful white-sand beaches, plus plenty of shopping, dining and nightlife.
Other amenities include a shuttle service to and from the airport, as well as access to a fitness center. Wi-Fi and cable channels are also included.
Learn more about deals in Barbados.
---
Want to see more upscale Caribbean villas? Search vacation rentals in Punta Cana, Montego Bay, or Oranjestad.